The agreement establishes the commitments of both institutions for the organisation and promotion of Vinoble 2018.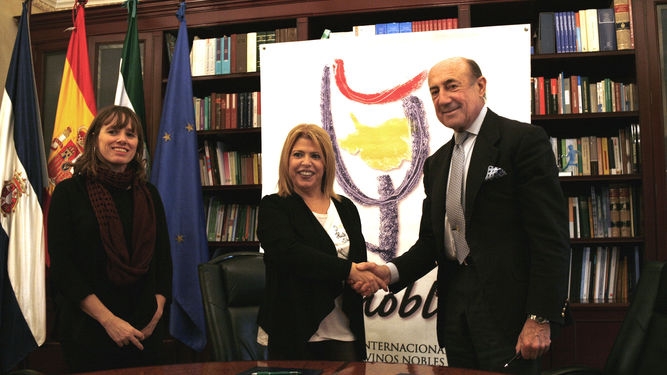 The mayor of Jerez City Council, Mamen Sánchez, and the president of the Consejo Regulador, Beltrán Domecq, have signed a collaboration agreement for the organisation of the 10th edition of Vinoble 2018 which will be celebrated on the 3rd, 4th and 5th of June this year.
The agreement sets out the commitments of both institutions for the organisation of the International Fortified and Noble Sweet Wines Fair to which the Consejo Regulador has committed sponsorship of 50,000 euros, part of which will be spent on improving internet presence for Vinoble to achieve better dissemination of the event.
The Consejo will contribute 50,000 euros to improve the internet presence of Vinoble
As Mamen Sáchez put it
I am delighted to again be signing this agreement with the Consejo Regulador, which is endorsing for yet another year its commitment to one of the most prestigious international events of the city's festive calendar, and we are very grateful for its support, which is fundamental, and for its commitment to the continual promotion of the wines of the area in this global showcase which is Vinoble, where the world's best wines come together.
For his part, Beltrán Domecq also expressed his satisfaction with the collaboration agreement, signed once more with the City Council, saying
We hope to attract the top producers of these very special noble, fortified and naturally sweet wines and to attract a truly international audience for them. We naturally want to promote our wines which are the most important in the world, wines with the greatest identity.
For its part, as in previous years, the Council will provide exhibition space at Vinoble for the exhibition and promotion of Sherry as well as an official tasting within the programme. The logos of the Consejo Regulador and the Denominación de Origen will be included in all information and publicity material produced. The Council will ensure the Consejo's presence at any press conferences, presentations, the opening ceremony and mention of the agreement will be included in all information sent out.
In return, the Consejo Regulador commits to collaborate in the various presentations and promotions which the Council may undertake relative to Vinoble and also to organise specific presentations at any relevant wine events. It will also cooperate in the communication of any aspect which requires the coordination of the Sherry bodegas.
By Vinoble Jerez
Artículos y notícias sobre el salón internacional de los vinos nobles, Vinoble 2022.