Interview with César Saldaña, Director of the Sherry Regulatory Council, for Vinoble 2020.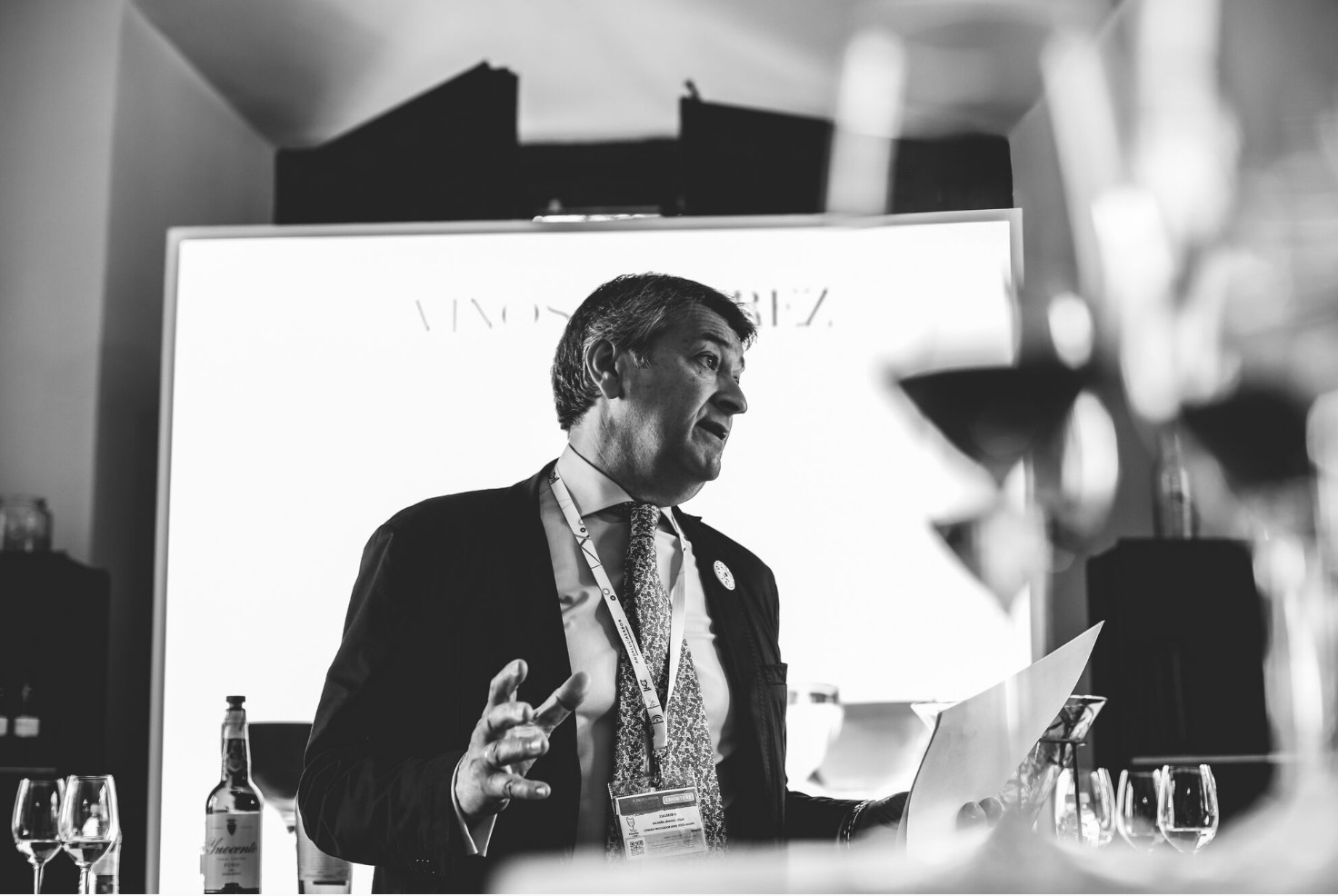 1. How would you say that Sherry Wines are doing right now?
In spite of the challenges in some of our traditional markets, and the threats from external factors such as Brexit and possible tariffs in the USA, I believe that Sherry is going through a tremendously exciting period, in which its protagonists - from the vineyards to the wineries - are making a clear commitment to excellence. To sum it up in one sentence, I believe that sherry is slowly but surely recovering its place among the great wines of the world.
2. What is the current situation with regards to modifying the regulations of the DO Jerez- Xérès-Sherry?
The updating of our specifications is an important part of this process, since the intention of the Regulatory Council is to incorporate into the DO (Designation of Origin) Jerez some of the oenological realities which have emerged in recent years in our territory, and which have caused the world of wine to return its attention to Jerez. I am confident that within a few months' time, we will have clearer and more modern regulations for our wines, which will allow us to project the DO Jerez towards the future.
3. What would you say is the main challenge facing Sherry Wines?
Sherry continues to be immersed in a process of change aimed at ensuring the sustainability of our production sector, but this time on a very different basis to that which enabled its expansion 50 years ago. Now it is a question of being able to focus on quality and added value, but also ensuring a critical mass that will allow our productive heritage to be maintained. In this sense, we are seeing on a daily basis new premium proposals from the wineries: these are undoubtedly the part of our business that captures the interest of the wine world - specialised press, professionals and aficionados alike. But we also need to come up with options for less expert consumer segments; we have to make Sherry attractive to broader swathes of the public. Indeed the updating of the specifications is one of the necessary milestones on this journey, but so is the work of the wineries themselves.
4.What are the general lines of communication for Sherry Wines?
It is clear that each of the wineries has total independence in terms of the messages that it communicates; and naturally the existence of different markets and types of wine means that positions vary in terms of the individual brands. But at a sector level, fundamental common elements can obviously be seen in our communication, which focuses on our intention to be perceived as a wine. A special wine, for sure, but a wine nonetheless. For this very reason we must emphasise the aspects which identify a wine, such as its terroir, the vine, and the human element… In terms of consumption, we are also very clear: the fundamental vehicle should be gastronomy, although in certain markets and on specific occasions there are other opportunities, such as cocktails.
5. How will Brexit affect Sherry Wines?
Any radical change in a market that is as important for us as the UK is concerning. When there is also so much uncertainty, as around the UK leaving the European Union, it is even worse. Over the past year, we have seen speculative movements, with shipments being brought forward or delayed according to the news which was being diffused at the time. But regardless of these temporary issues, we are concentrating on three aspects of Brexit: first, reaching an agreement allowing the normal flow of trade to continue without too many obstacles or complications. Secondly, maintaining the hard-won protection of the name "Sherry" (which was only confirmed in 1995, after we entered the Common European Market, also known as the European Economic Community). Finally, ensuring that the price doubtless to be paid by the UK for its exit from the EU does not result in an excessive increase in the taxes levied on our wines. In any case, I am convinced that the British will continue to be regular consumers of Sherry.
6. What role does wine tourism play in the promotion of Sherry?
The Marco de Jerez is an important tourist destination in itself: the beautiful countryside, the monuments in the cities, and the considerable festive and cultural attractions draw millions of visitors to our region every year. Wine is undoubtedly the sign and symbol of our land. The latest official published data lists the Marco de Jerez as the most-visited certified wine route in Spain, with almost 600,000 paying visitors to our wineries every year. We are convinced that this aspect has huge potential for correct communication about our wines, because here the visitor is able not only to get close to them, but also to everything that comprises full gamut of our wine culture: architecture, ancestral trades, language, gastronomy, folklore…
7. What about training?
For a wine like ours, so different from all others - and, let's admit it, more complex – training is fundamental. This is how we understood it at the Regulatory Council when we created the "Sherry Academy" almost 20 years ago, and started to develop specific programmes such as the Trainer Course and the Specialised Sommelier Course. The success of these programmes, and of many others that were developed later, demonstrates the interest of both professionals and aficionados in the world of Sherry. Additionally, the hundreds of Certified Sherry Educators whom we have trained are our best ambassadors around the world.
8. What is the new advertising campaign?
We have recently seen the launch of a major new advertising campaign for Sherry Wines. We are very excited about the start of the new publicity drive for Sherry, Manzanilla and Sherry Vinegar, which will receive a significant injection of funding from the EU. This is a campaign to promote European quality labels, which will run for three years in Spain and Holland, and will involve a total investment of 7.5 m euros. I am convinced that this is an immense opportunity which we will take advantage of, in order to introduce our wines to broader segments of the population.
9. How important is Vinoble for Sherry Wines?
It is incredibly important for the sector. Vinoble is the show where, every two years, we can sound out the reception of these special wines, which do not easily fit into other international events. For three days, in the magical setting of the Alcázar de Jerez, we can discover how the various producing regions and their wineries are experimenting, and measure the interest shown by industry professionals in the various new styles and products which are appearing. In a market as competitive as that of wines, this is of considerable relevance to all concerned. Moreover, the fact that it takes place in Jerez allows us to play a leading role, which our wineries make the most of by holding parallel activities.
10. Will there be any surprises from DO Jerez in this edition of Vinoble?
Undoubtedly, as every year, the wineries in our DOs, both Jerez-Xérès-Sherry and Manzanilla, will use Vinoble to present their latest innovations. I know that a significant number of producers will be presenting special Sherries, "en rama" versions of well-known brands, different formats and presentations, etc, as well as launches. In addition, we will see the official introduction of a new bodega into the Marco de Jerez. The important thing is that, as far as I know, all the new products will be high-quality wines. Unfortunately I can't be more explicit.
11. Will we have a special tasting by the Regulatory Council?
Of course; the Council's tasting is already an unmissable Vinoble event, so naturally we want to offer it again in this edition. Right now we are deciding on the theme and specific wines, but we will probably dedicate the tasting to specific selections made by the Regulatory Council for celebrating anniversaries and special occasions in our recent history.
By Vinoble Jerez
Artículos y notícias sobre el salón internacional de los vinos nobles, Vinoble 2020.