For far too long, sweet and fortified wines sat forgotten on retail store shelves and dusty back rows of bars, left in the gritty shadows while their more popular counterparts thrived. Rarely did guests order these liquids by the glass, nonetheless, drink them in original cocktail creations. However, these precious bottles were able to stand the test of time, quite literally and figuratively, in fact, as the neutral spirit added into these wines gives them a far longer shelf life than other alcoholic beverages. Over the last decade, the demand for sweet and fortified wines have seen a great resurgence behind the bar-- especially in the presence of cocktails.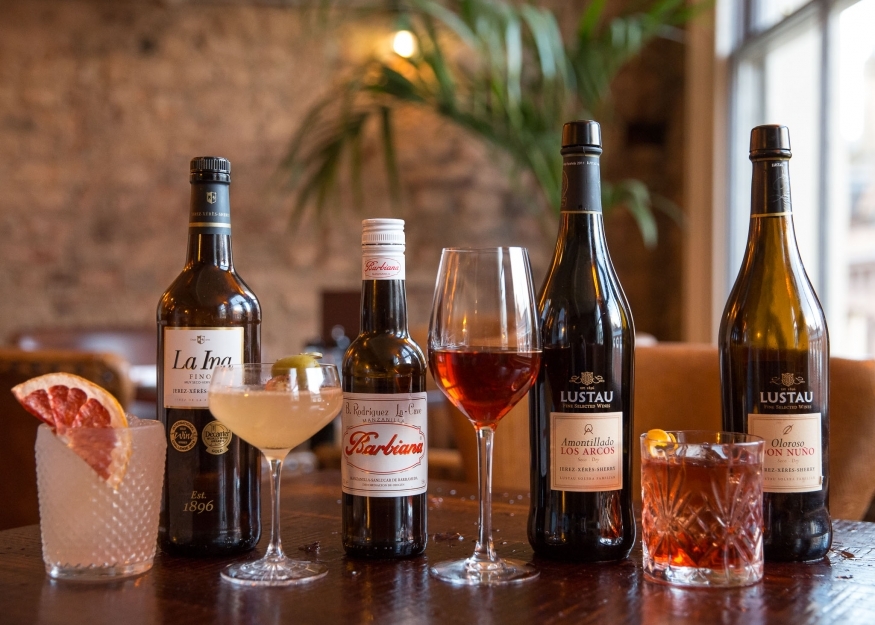 Which Sweet/Fortified Wines to Use
Sweet and fortified Wines are a complex animal to tackle. In the world of sweet wines, there are various ways in which said sweetness achieved; whether it's from late-harvested fruit (even frozen, for ice wine production), botrytis ('noble rot') inflicted grapes, or drying out fruit to concentrate sugars, sweet wines can be produced in an array of methods. Fortified wines, on the other hand, are created through a process called mutage, in which neutral spirit is added to must to halt fermentation, leaving residual sugar-- and a boost of alcohol-- to the incomplete wine.
"Essentially, a wine base product, fortified & aromatized with a myriad of herbs, spices and oils, has a whole lot of history (successful history) in mixed drinks," explains Chantal Tseng, Head Reading Room Bartender of Washington DC's Petworth Citizen. "While many of these bottles were originally designed to be imbibed solo, or on the rocks with a twist or a splash of soda, they also have an innate ability to play well/pair well with other spirits and ingredients."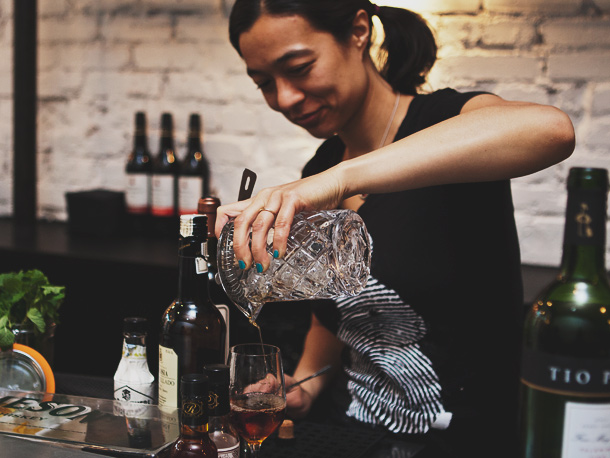 She recounts how the 'Sherry Cobbler' was an original big-player in the 19th Century cocktail scene, as well as an essential cargo product being shipped from Old World to New World.
Jacob Tschetter, bartender at Brooklyn based Grand Army Bar, explains that using personal preferences is a great way to educate consumers on the use of sweet and fortified wines in cocktails.
"When folks ask about incorporating vermouths (aromatized wine) and sherries into cocktails, I love to pull out some of my personal favorites: Negronis, Manhattans and Flips/Fizzes are typically the first are few that come to mind." He notes one of his favorite interpretations, the Buffalo Fizz, an adapted Fizz recipe from The Bartender Manual, published in 1913, which comprises rye, Pedro Ximénez (PX) sherry, egg white, lemon juice, simple syrup, and sparkling water.  "The PX adds a beautiful, full flavored fig and raisin quality, which are further accentuated by the rye spice and the creaminess of the egg, while the lemon juice adds a refreshing element to it."
Incorporating Sweet/Fortified Wines in Cocktails
Tseng recommends experimenting with classic cocktails that already use sweet vermouth and substituting sweet/fortified wine in its place. "Take the Manhattan, that already uses sweet vermouth as an essential ingredient, and substitute a fortified wine like sherry or Madeira." She recommends using equal parts sherry/vermouth to start, simply to get a feel for how the ingredients complement each other, then proceeding to try other substitutions with various classics. "In cocktails that call for a sweet liqueur, try a sweet wine and taste as you go." Regarding fortified wines, Tseng describes her 'heavy hand' at using both dry and sweet sherry in cocktails, as well as incorporating Madeira, and Pineau des Charentes.
Andy Seymour, mixologist, bar educator, and owner of Liquid Productions., explains that port and sherry's versatility make them great choices in cocktail creations, noting that their adaptability makes them fantastic points of differentiation in creating new cocktails. Along with Tseng, he also recommends experimenting with substitution; swapping one ingredient out with another.
"This is specifically an excellent way to utilize port, due to the great additional flavor aspects that it can bring to cocktails." Seymour also recommends using port in place of sweet vermouth, specifically using Ruby Port in a Manhattan or Negroni, or White Port in a Gin Martini.
Seymour also notes that sweet fortified wines, such as Ruby Port and Pedro Ximenez sherry, can be used in place of simple syrup and agave. "Using these sweeter wines brings amazing richness and depth of flavor AND sweetness, which allows for more dynamic cocktails." He explains that flavor profiles of the drinks will change with substitutions, so playing around with recipes to get them exact might be required.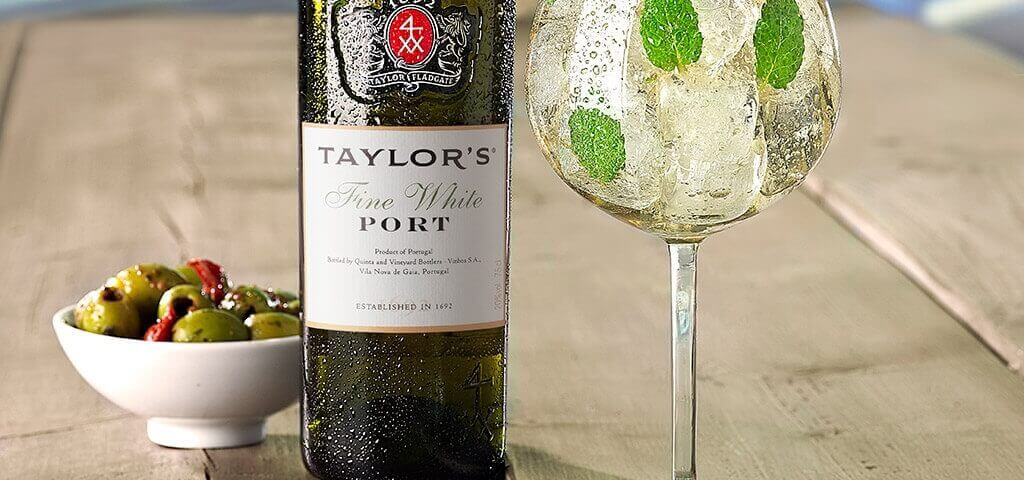 How the Perception/Use of Sweet and Fortified Cocktails Has Changed Over Time
"The bar scene has shifted and evolved, and it's given sherries and vermouths a real chance to shine," explains Tschetter. He equally credits proper storing and serving of these wines to their rise in success, as well as a surge in quality brands. "So many great brands have been popping up in cocktail bars all over the place. You have bars like (New York City based) Café Dante and Amor Y Amargo, which are dedicated to educating and serving the masses some truly incredible cocktails featuring these products."
He notes that whether used as modifiers or bases in cocktails, these wines offer a ton of complexity to work with.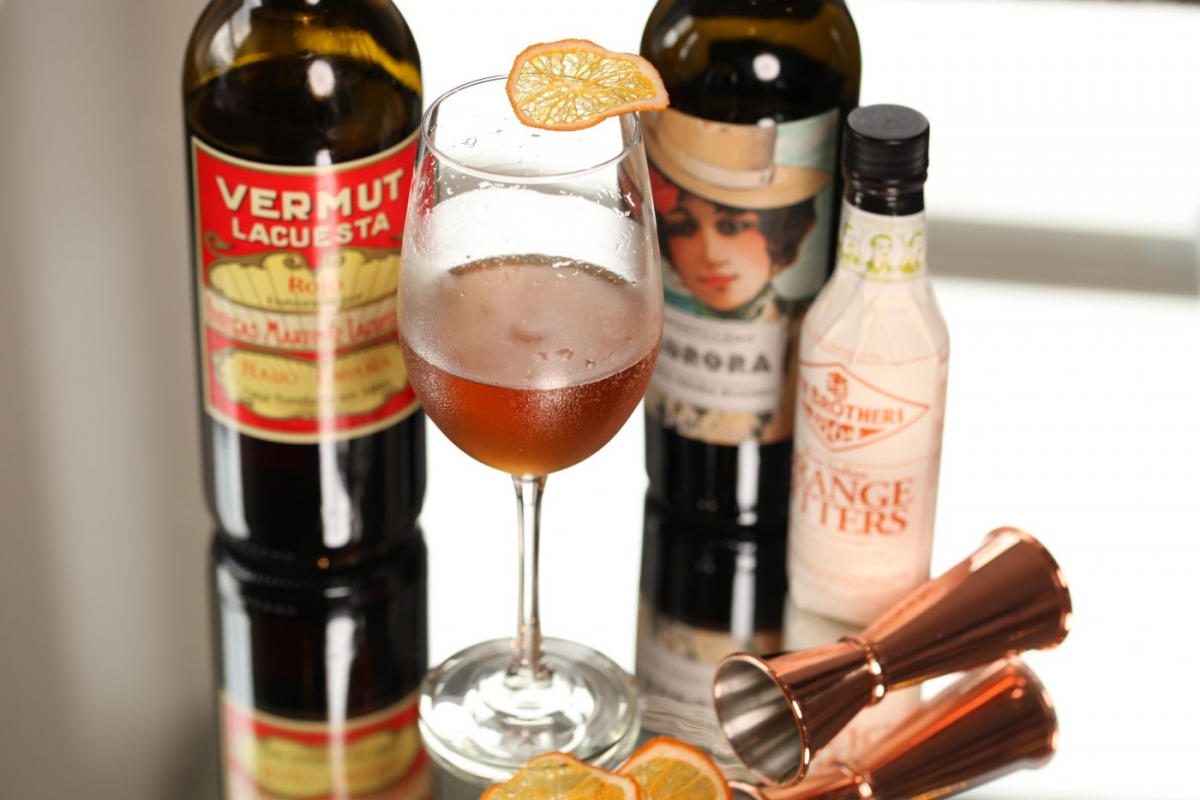 Seymour concurs with Tschetter's point, noting that proper storage, care, and attention to these wines have helped them gain some serious traction. He also credits a resurgence in classic cocktails; "gone are the days where Port and Sherry are perceived as a drink of their grandparents' generation," he says, noting that continued trade education has led to an "awakening in the bar world and a new enthusiasm for the craft of the cocktail."
Tseng credits simple education for the positive perception of sweet and fortified wines.
"More bartenders have gained better education, and therefore more confidence, to rely on these wines in their cocktails." She notes that these wines are even more accepted nowadays as a base spirit, rather than just a mixer. "After all, they were originally created to be loved solo. They just also happen to play well with others."
Experts' Favorites
Tseng first fell in love with sherry upon tasting the classic 'Adonis' cocktail, named after the celebrated Broadway play. "There are many variations of this cocktail today, and I also tweak the recipe from day to day, depending on the style I am going for," she explains, sharing one of her preferred recipes: Stir 2 parts Amontillado Sherry with 1 part Dolin Rouge Vermouth, 2 dashes of orange and aromatic bitters. Strain into a coupe and garnish with orange peel, oils expressed over the drink.
Tschetter describes Atsby's Amberthorn as a 'love child of a blanc and dry vermouth.' Crafted from Long Island Chardonnay, the wine is fortified with New York Apple Brandy, then sweetened with North Fork raw summer honey. And for drink of choice? The Coronation, served on tap at Brooklyn's Sweet Polly. "This drink was initially made for King George V and Queen Elizabeth; this particular tweak on a classic uses Dubonnet, Amberthorn Vermouth, Lustau's Manzanilla sherry, Maraschino and Angostura Orange bitters. They're dangerously crushable."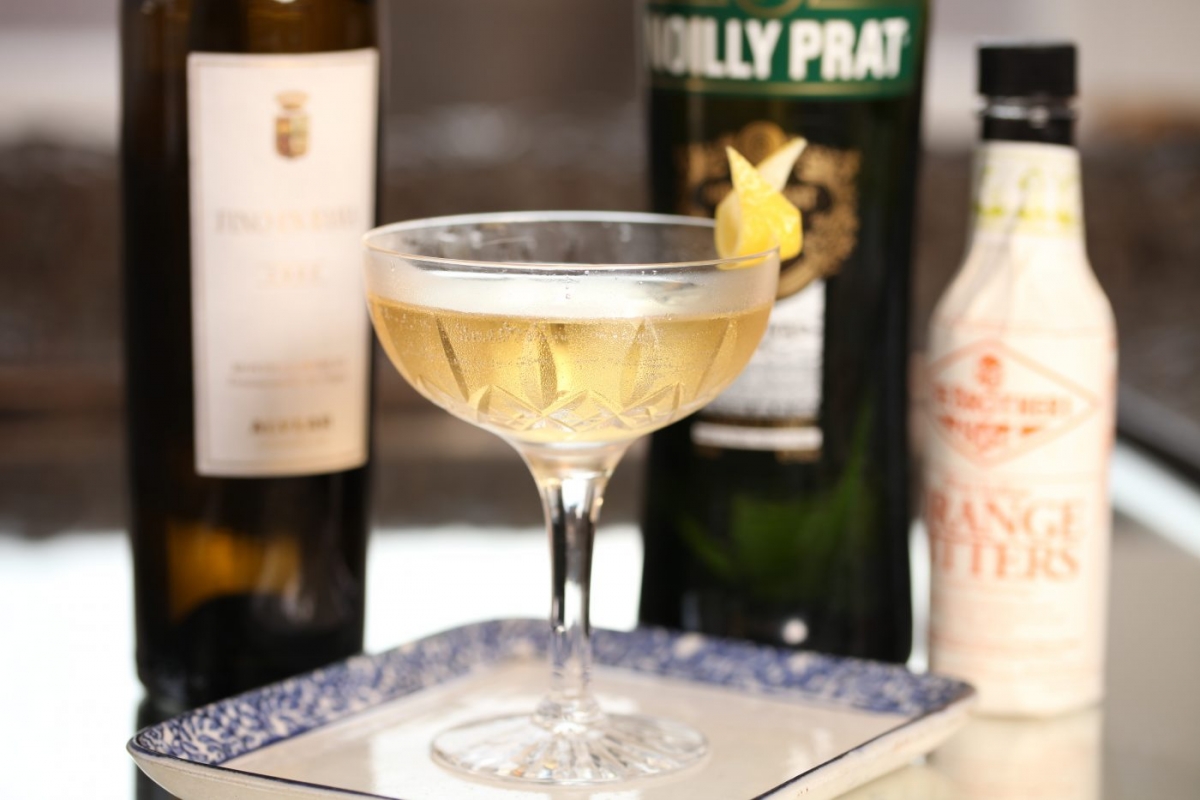 Seymour shares what he describes as a light and easy, classic starter, called the First Wind.
FIRST WIND
2 oz. Fonseca Siroco White Port
¾ oz. fresh cucumber juice
¼ oz. fresh lemon juice
Bar spoon Agave syrup
2 Cilantro sprigs
2 oz. Tonic Water
Method:
In a shaker tin, muddle cilantro with agave syrup and lemon juice. Add cucumber juice, port,
and ice. Shake and strain over ice into a Collins glass. Top with tonic water and garnish with
cucumber slice.
Next up, a 'midday mixer':
LOUNGE CHAIR AFTERNOON
1 ½ oz. Croft Pink Port
¾ oz. Anejo Tequila
¾ oz. fresh Grapefruit juice
½ oz. fresh Lemon juice
½ oz. Tarragon Simple Syrup
Method:
Combine all ingredients into a shaker tin and shake vigorously for eight seconds. Strain into an
ice filled double rocks glass and garnish with a Grapefruit slice. Enjoy!
And for Seymour's 'evening elixir':
IMPROVED DUNLOP
2 oz. Croft Reserve Tawny Port
1 oz. Clement 6yr Aged Rhum Agricole
1 Dash Bitterman's Mole Bitters
Garnish: Grapefruit peel
Method:
Combine all ingredients in a mixing glass and add ice. Stir to chill and dilute. Strain over ice into
a double rocks glass and garnish with grapefruit peel, expressed oil. Enjoy!
Written by Vicki Deng: Vicki is a New York based wine and travel writer. Her pieces have been featured in SevenFifty Daily, Wine Enthusiast, VinePair and Somm Journal. She is a Certified Specialist of
Wine and an avid world traveller. When not writing, she can be found running through Central Park, frequenting local dive bars, or boarding a plane to discover a new city.