Why are there so many different wines? The simple answer is that there are so many different places, each with its own geography, geology, climate, grape varieties and traditions. Thus the origin of a wine is the key to its style and quality. At Vinoble many of the world's great fortified and sweet wines will be on show offering a wonderful opportunity to savour these often under-appreciated treasures.
Spain
There are many great sweet wines in Spain. The Canary Islands produce late harvested Malvasía and Listán Blanco, Yecla makes great sweet Monastrell, and there are excellent Moscatels from Navarra, Alicante, Málaga and Cataluña where some ice wine is also produced. There is also the occasional late harvested wine from Txacolí and Galicia.
Jerez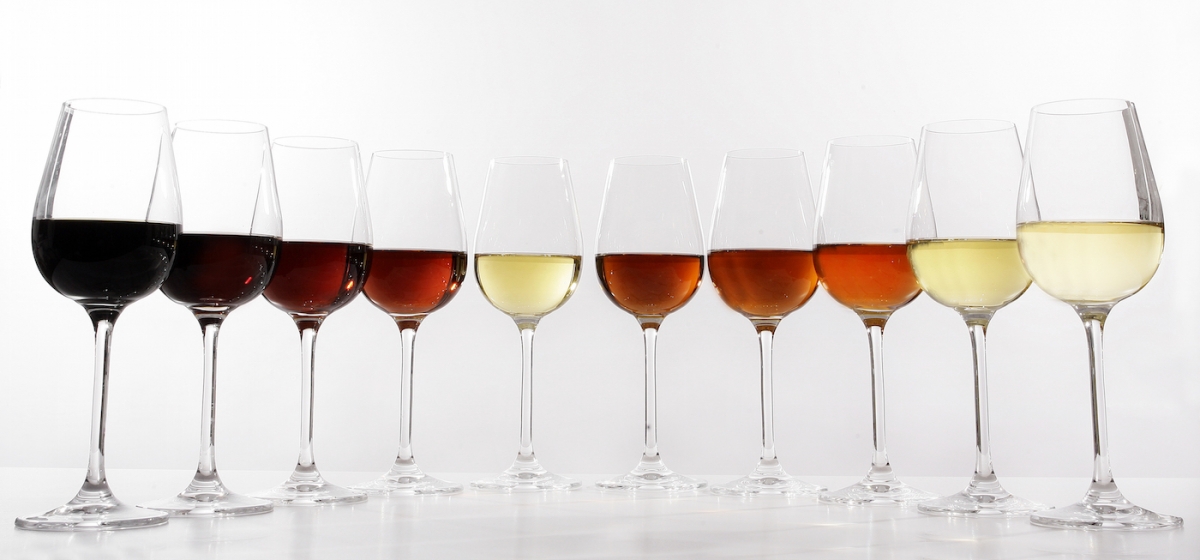 Wine has been made in the Jerez region for 3,000 years on chalky "albariza" soils. The main grape is Palomino but a little Moscatel and Pedro Ximénez (PX) are also used. Wines are normally aged in a solera system. Most are dry and some are aged under a film of yeast called "flor" keeping them light and fresh. Others are aged oxidatively without flor and develop more colour and body. Moscatel and PX are usually sunned to raise sugar levels and are either bottled as sweet wines or blended with dry ones to produce a variety of more commercial styles. Key types: Manzanilla, Fino, Amontillado, Palo Cortado, Oloroso, Moscatel, Pedro Ximénez, Moscatel, Cream. Sherry is extremely versatile with food.
Tintilla de Rota
Originally made at Rota on the bay of Cádiz from the local Tintilla grape, this classic fortified red has almost died out. Late harvested grapes are sun dried and the fermentation is stopped by fortification leaving a sweet wine. A little juice is reduced to a syrup and blended in before ageing.

Málaga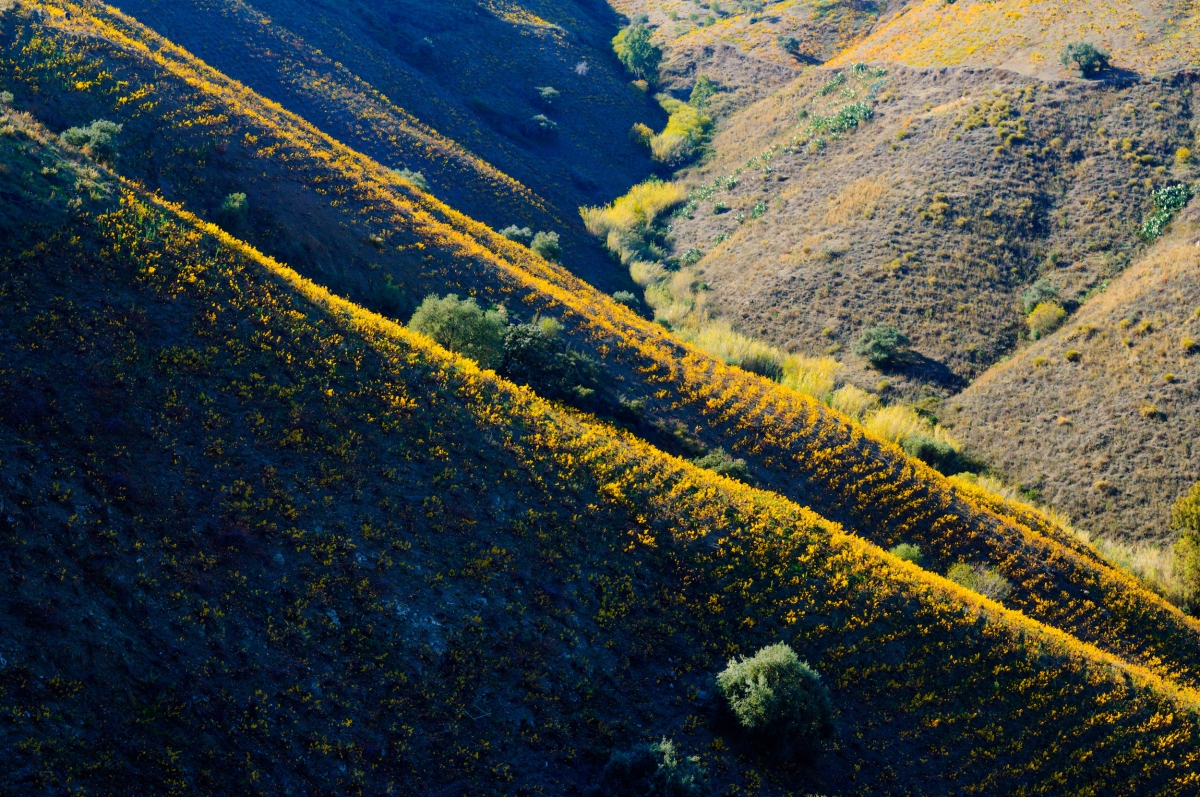 Named after the city where it was traditionally aged, production of Málaga dates back some 3,000 years. It is generally sweet and is made from Moscatel and Pedro Ximénez grapes from the province's hills and mountains. Musts from super ripe and or sunned grapes are fortified during fermentation leaving naturally sweet wine which may be sold young and fresh or aged in barrels. Aged wines are classified as: Noble (2-3 years), Añejo (3-5 years) and Trasañejo (over 5). Some extremely elegant Moscatel comes from the Axarquía area with its steep sloping slatey soils. Once a very important region, Málaga is now making a long awaited comeback.
Montilla-Moriles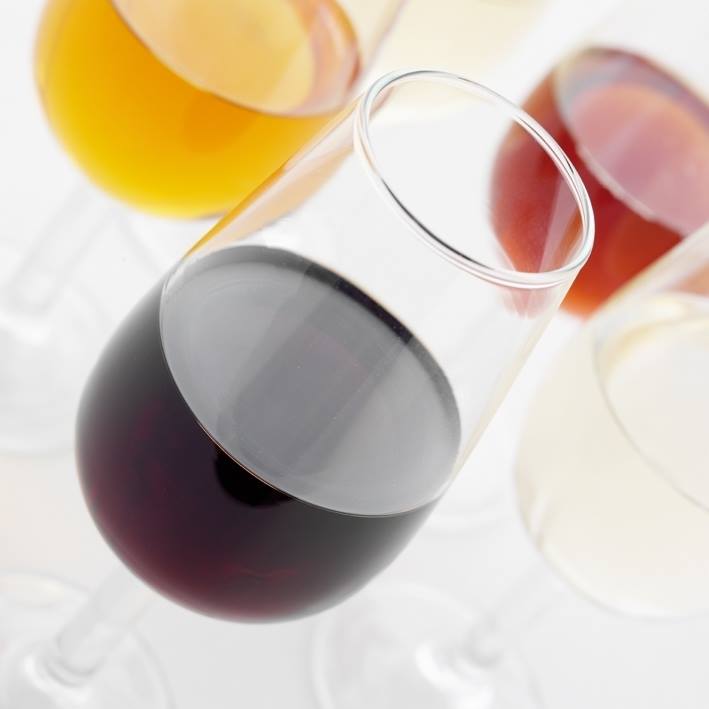 Probably some 3,000 years old, this important region is in the province of Córdoba around the towns of Montilla and Moriles. Unlike Sherry and Málaga, it is inland where temperatures are higher, allowing the Pedro Ximénez grapes planted on chalky soils to develop higher sugar levels, obviating the need for fortification of Finos. A little fortification is used for other styles, and the famous sweet Pedro Ximénez is made by adding alcohol to super-ripe grape must. Some wonderful wines here.
Port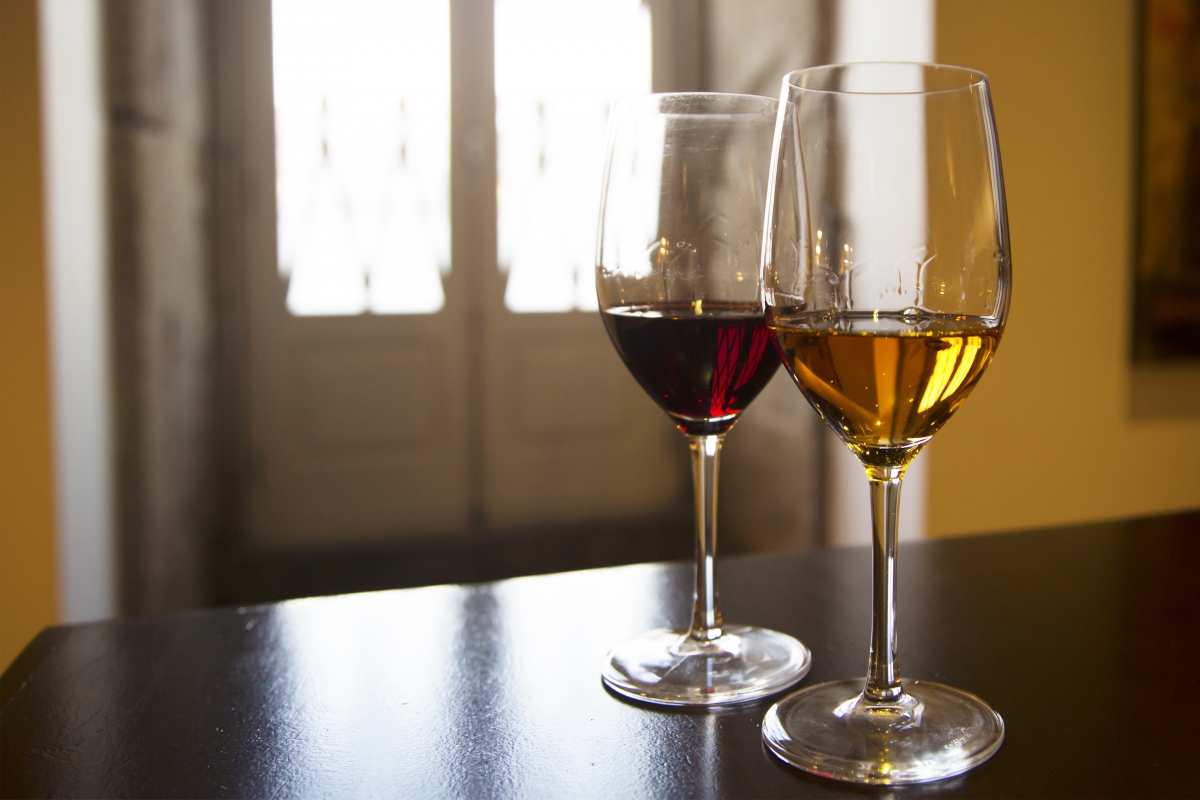 The great river Douro meets the sea at Oporto in northwest Portugal where most of the wine "lodges" are located. The wine comes from vineyards upstream, often on precarious terraces where conditions are extreme. Many grapes are authorised but among the best are Touriga Nacional and Tinta Roriz. Unlike Sherry, Port is fortified during fermentation to retain grape sugars.  While there is some white – even rosé – most are red. There are two basic types: Vintage Port, with brief wood ageing and long bottle ageing, and Wood Port with considerable wood ageing which includes Colheita, LBV, Tawny and Ruby. There also some excellent single estate or "Quinta" Vintage Ports.
Moscatel de Setúbal
Produced since the XIV century on the Setúbal Peninsula on the opposite side of the Tajo estuary from Lisbon, this great Moscatel, which was a favourite of Louis XIV, deserves more attention. Two versions of the grape are used: Moscatel de Alexandria and Moscatel Roxo They are picked super ripe and the must is fermented on the skins during which time fortification takes place and the finished wine is aged in wood, sometimes for a long time.
Madeira
Madeira is a small volcanic island in the Atlantic, north of the Canary Islands, with a sub-tropical climate. For some 600 years, it has produced a unique wine, one which seemingly lasts forever.  The principal grape is Negra Mole, but for the better wines the noble Sercial, Terrantez, Verdelho, Boal, and Malvasia are used. It was discovered that the wine improved greatly on long sea journeys, and a system called "estufagem" was devised to replicate this. It involves very carefully heating the wine to @50° over months and even years. Notes of caramelised sugar can be detected in the wine. The best wines are Colheita (young vintage) and Frasqueira (minimum 20-year-old vintage).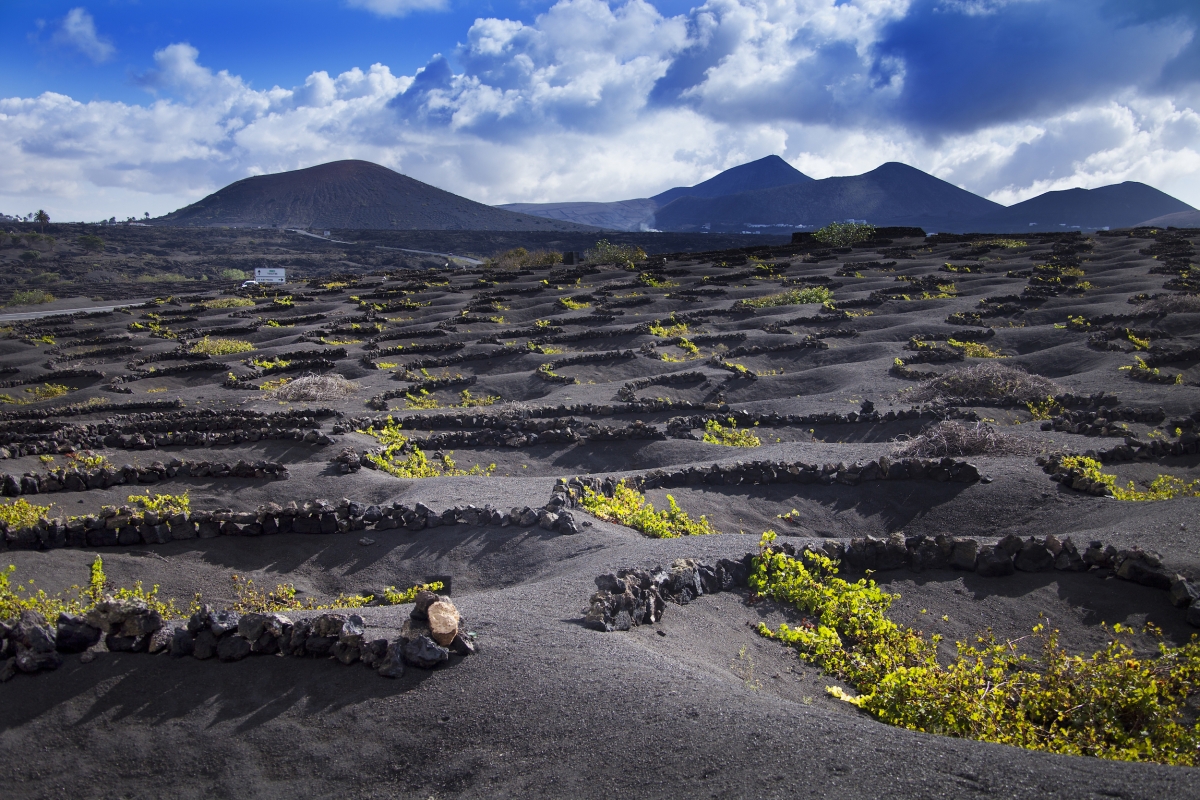 Sicily
Marsala is a town on the western tip of Sicily, the wine is made from Inzolia, Grillo, Cataratto and Trebbiano. The best is the Marsala Vergine and Vergine Stravecchio with minimum 5 and 10 years in solera respectively. It is much more than a cooking wine. Moscato di Pantelleria comes from an island between Marsala and Tunisia and, like Marsala, has both fortified and unfortified versions.
French Vins Doux Naturels
Produced generally in the south of France in the Languedoc, Roussillon and Rhône, they are made by fortifying the juice of overripe grapes which gives light fresh and aromatic wines. Examples are the Muscats of Rivesaltes, Frontignan, Lunel and Beaumes de Venise and the red Grenaches of Rasteau and Banyuls. The whites tend not to be aged. Further north are Pineau des Charentes, made from Cognac grapes, Macvin from the Jura and Ratafia de Champagne.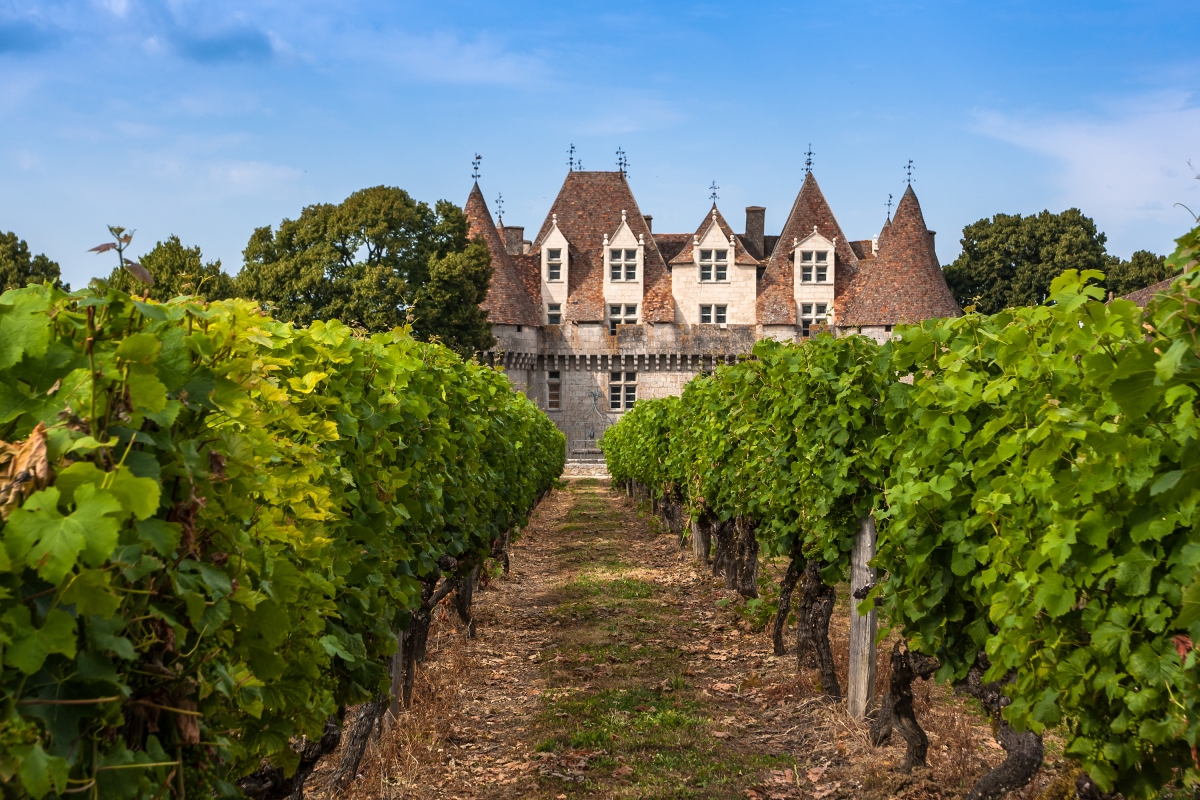 Fondillón
This legend almost died out but is thankfully making a comeback. It comes from Spain's hot southeastern province of Alicante and is made from super ripe Monastrell grapes. Musts can achieve 16° - 18° simply by fermentation without need of fortification. A minimum 10 years ageing is required, often in soleras and often in very large barrels. Vintage Fondillón can occasionally be found.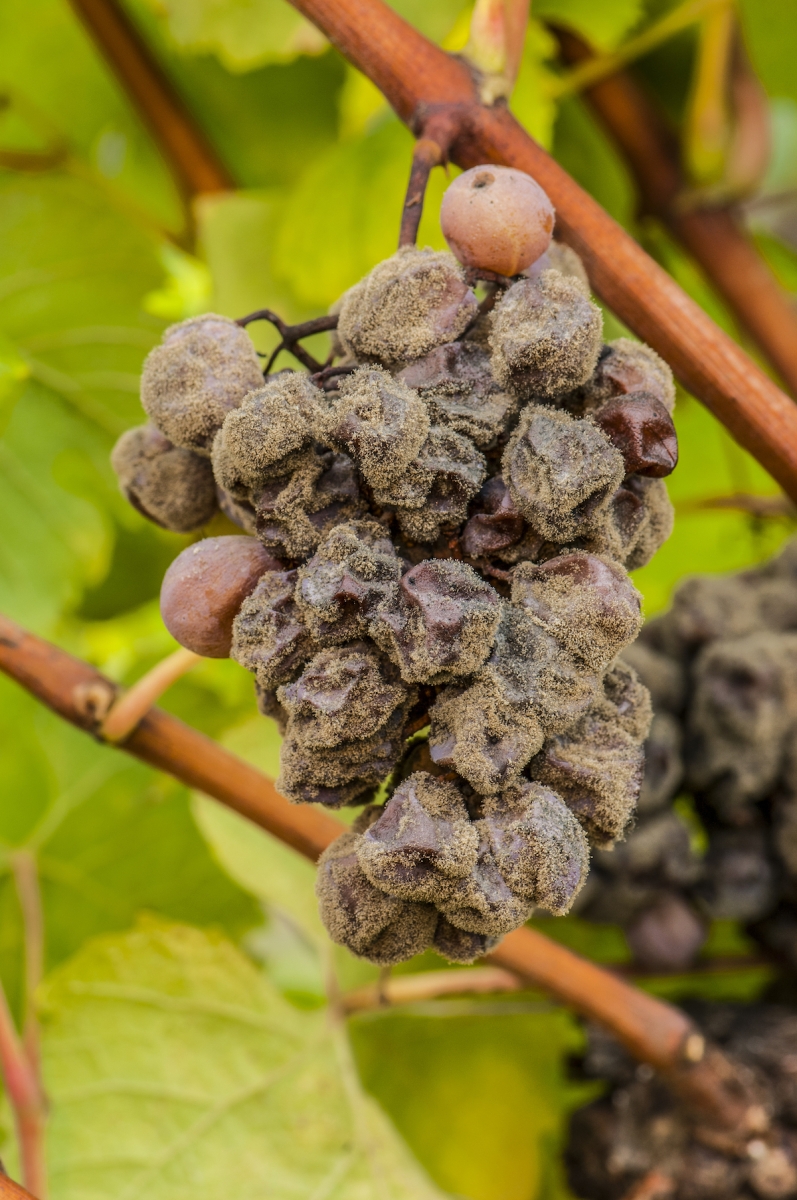 Bordeaux
The delightful sweet wines of south western France are made from overripe grapes with the help of botrytis, the "noble rot". The low lying vineyards are susceptible to humid autumn mists, ideal for botrytis which concentrates the grapes, mainly Sémillon with some Sauvignon and Muscadelle, and gives incredible flavour. Sauternes and Barsac are the best known, but Loupiac, Cadillac and Sainte Croix du Mont are also good. Inland and a bit further upstream is the excellent Monbazillac. Then there is the super fresh Jurançon made from Gros and Petit  Manseng in the lower Pyrenees.
Loira
Great sweet wines like Quarts de Chaume, Bonnezeaux and Côteaux du Layon are produced in Anjou from the Chenin Blanc grape grown on schist and sandstone soils, usually with some botrytis. The grape's natural acidity gives great finesse and balance to the sweetness.
Jura
Named after the Jura Mountains in the east of France, the wines produced here are very special. The principal grape is the Savagnin, which is used to make Vin Jaune and Château Chalon, aged under a veil of flor yeast for over 6 years. It is also used to make Vin de Paille, made from grapes dried on straw mats resulting in a sweet wine.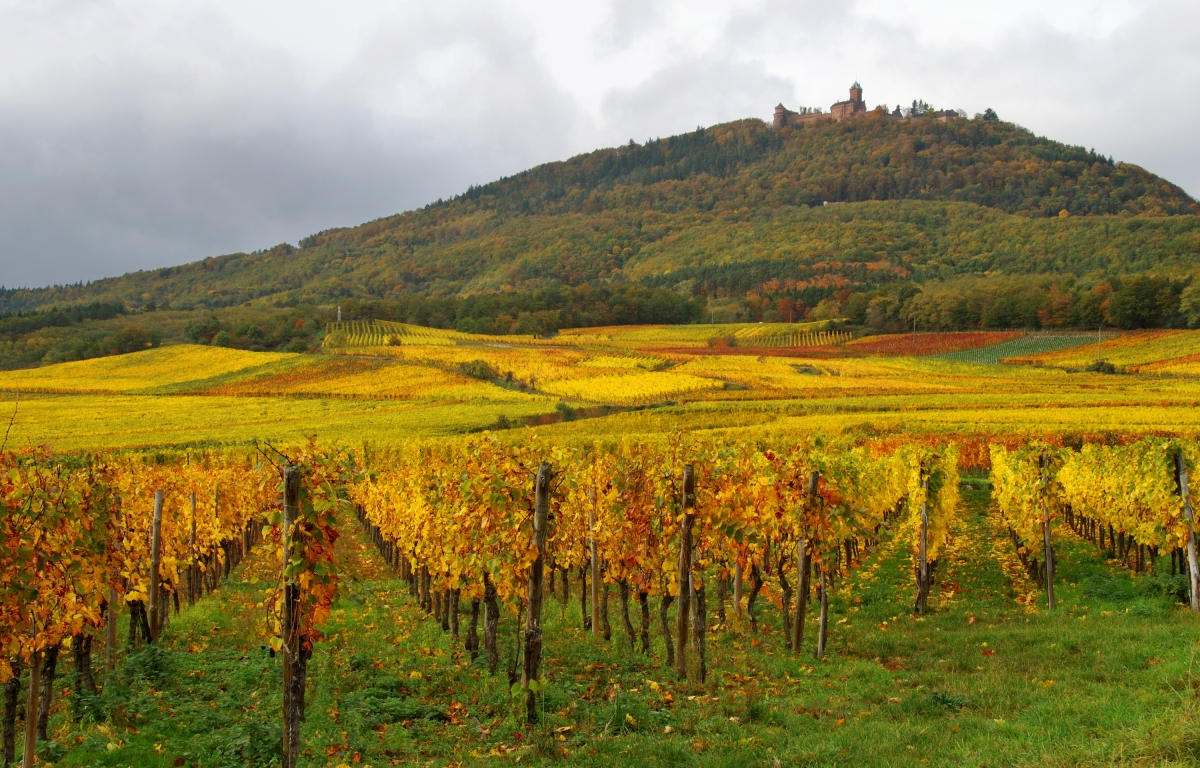 Alsace
While the majority of Alsace wines are dry, some outstanding sweet ones are made by late harvesting the grapes (vendanges tardives) or by waiting for botrytis (selection de grains nobles). Grapes authorised are: Riesling, Gewürztraminer, Pinot Gris and Muscat.
Germany
Some outstanding sweet wines come from the steep vineyards of the steep Rhein and Mosel valleys. Grapes are picked in increasing degrees of ripeness: Spätlese, Auslese, Beerenauslese (BA) and Trockenbeerenauslese (TBA). To the latter pair can be added the term Eiswein if the grapes were frozen when picked. TBA and often BA grapes are botrytis affected and the wines are rare and expensive asthey cannot be produced every year and require a great deal of work.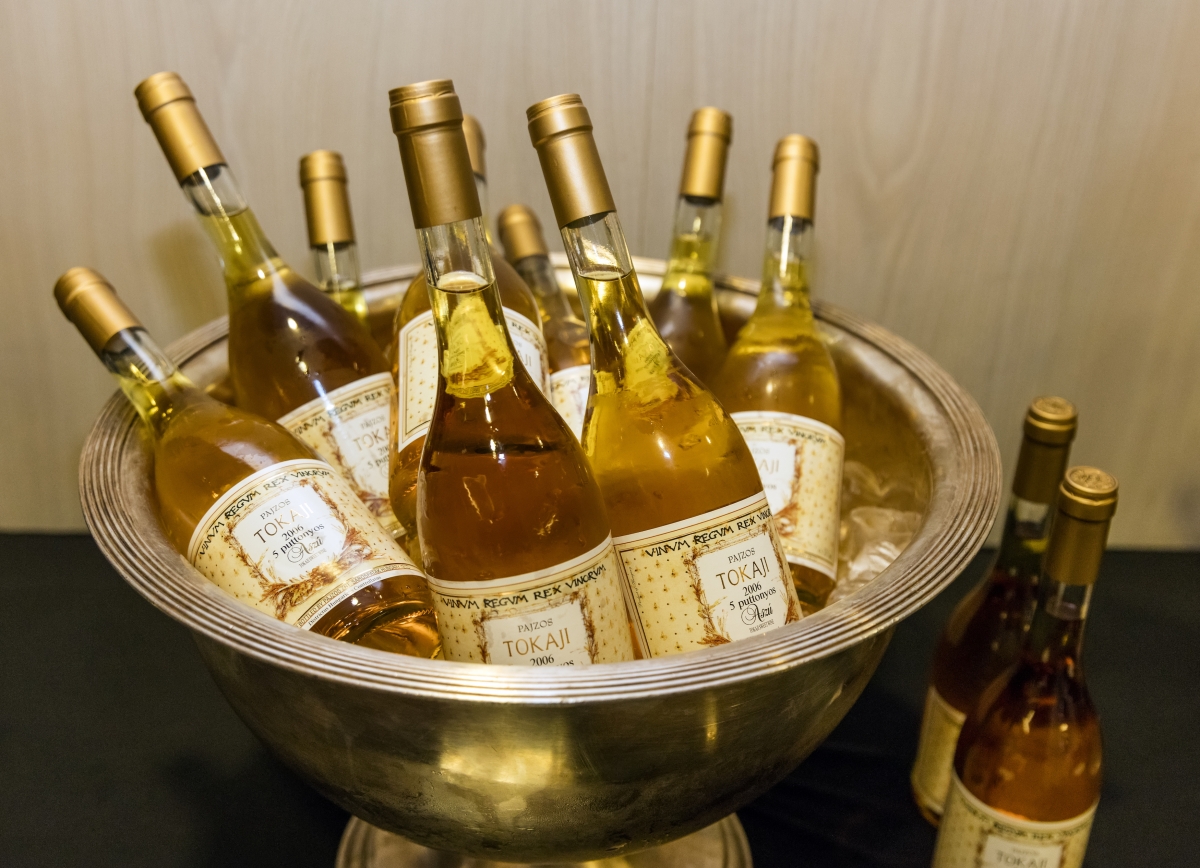 Tokaji
The Russian Tsars sent Cossacks to guard their shipments of Tokaji, such was its esteem. The town of Tokaj is in north eastern Hungary and the wine is made from mainly Furmint grapes on volcanic soils. Tokaji varies from dry to sweet, but the sweet "aszú" wines are the stuff of legend. They come in varying degrees of sweetness according to how many "puttonyos" (tubs holding 25 kilos) of botrytised grapes are added to a 136 litre barrel (called a gönc) containing dry base wine. The wine is sold in ascending numbers and sweetness from 3 to 6 puttonyos, with the top level wine, Esszencia" being almost pure botrytised grapes. Tokaji is one of the longest-lived wines in the world.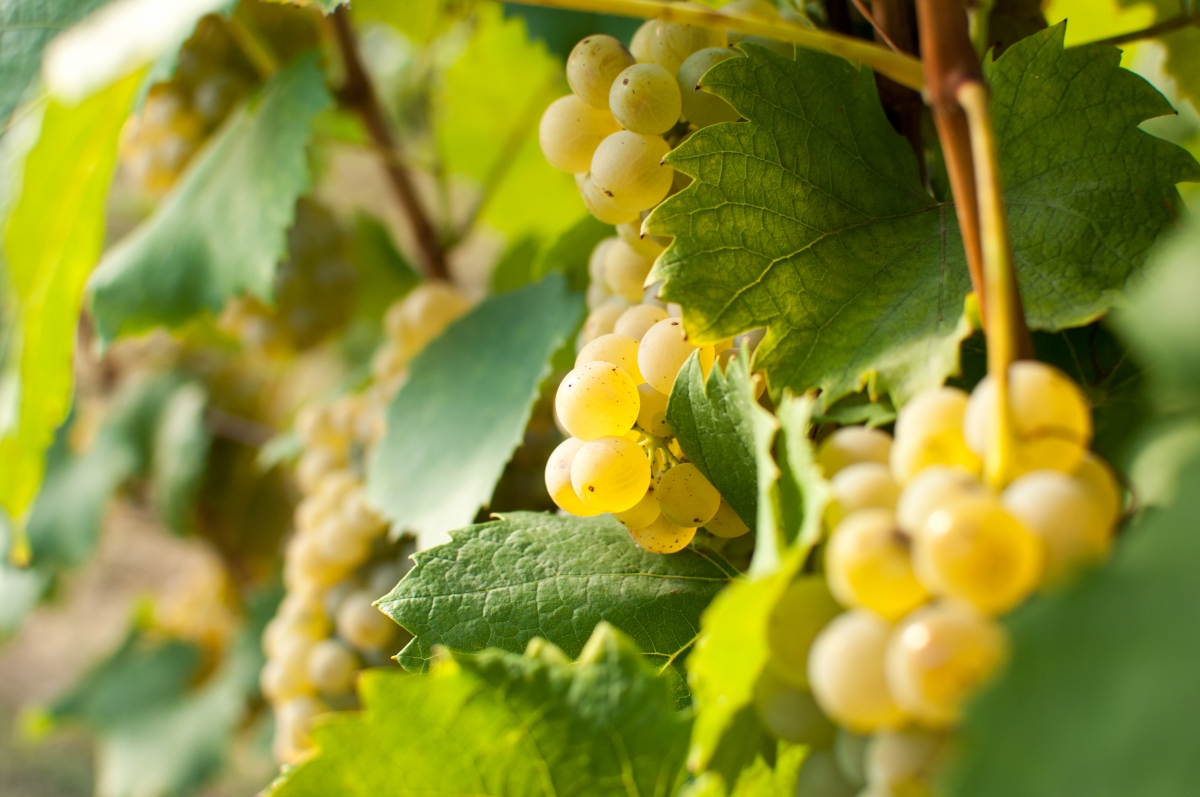 Austria
The best Austrian sweet wines come from around Lake Neusiedl in the Burgenland area at the Hungarian border. Here the land is flat and marshy with suitable humidity to produce botrytis regularly. Much sweet wine is produced from the Welschriesling, Weissburgunder, and Rülander grapes. The town of Rust is famous for Ruster Ausbruch made like Tokaji, and Strohwein is made by drying grapes on straw out of the sun. The other wines are graded in an ascending order of sweetness: Auslese, Beerenauslese and Trockenbeerenauslese and occasional Eiswein.
Grecia
The Greeks were among the first to spread wine culture round the Mediterranean. They produce some excellent sweet wines like the Muscats from the islands of Samos, Rhodes and Lemnos or the Assyrtiko based Vinsanto of Santorini. The Muscats and red Mavrodaphne of Patras or the island of Cephalonia are also worthy of attention, as is the Malvasia of Crete.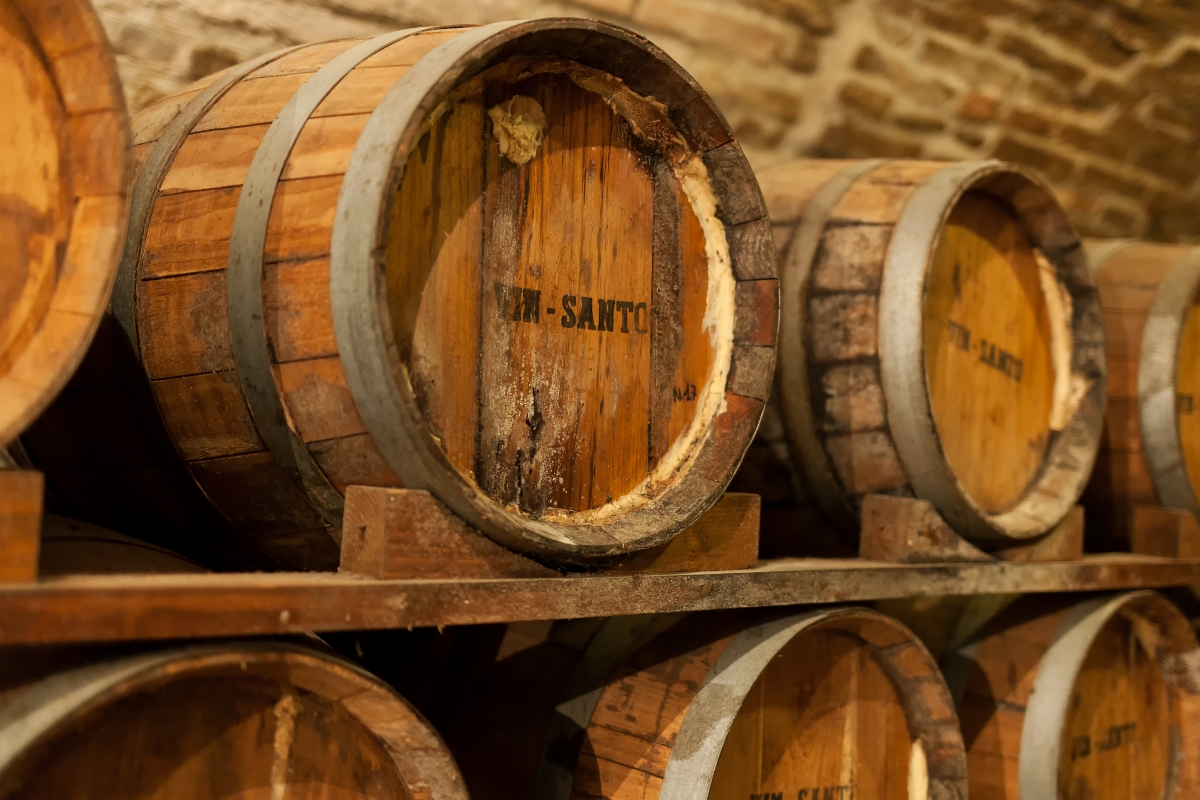 Italy
As one of the world's largest wine producers, Italy has a wealth of sweet wine to offer: sweet red Recioto della Valpolicella, white Recioto di Soave and Torcolato from the Veneto, Moscato d'Asti from Piemonte, Picolit from Friuli, Vin Santo from Toscana, Moscato di Noto from Sicily, Lacryma Christi from Campania, Malvasia di Bosa from Sardinia…
Canada
Okanagan Valley (British Columbia) and Niagara Peninsula and Essex County in Ontario are the main producing areas of Canada. With its northerly climate Canada is not a major wine producer, but is able to make most types of wine and most notably ice wine with the hybrid Vidal as well as Riesling and Cabernet Franc grapes. The quality is excellent.
Australia
Fortified wines were long the mainstay of the Australian wine industry, and some excellent examples are still produced, principally in the styles of Muscat, Sherry and Port. Rutherglen (Victoria) is famous for liqueur Muscat, often from old vines and long aged in barrel. Sherry style wines produced mostly in South Australia tend to be on the sweeter side, while the Port styles are mainly Tawnies, long matured in wood, also in South Australia. Dessert wines are widely produced here mostly with overripe grapes like Riesling, Muscat and Orange Muscat. The Riverina area of New South Wales is ideal for botrytis wine production thanks to the warm climate, irrigation from the Murrumbidgee River and flat landscape. The Sémillon grape is widely used along with Riesling.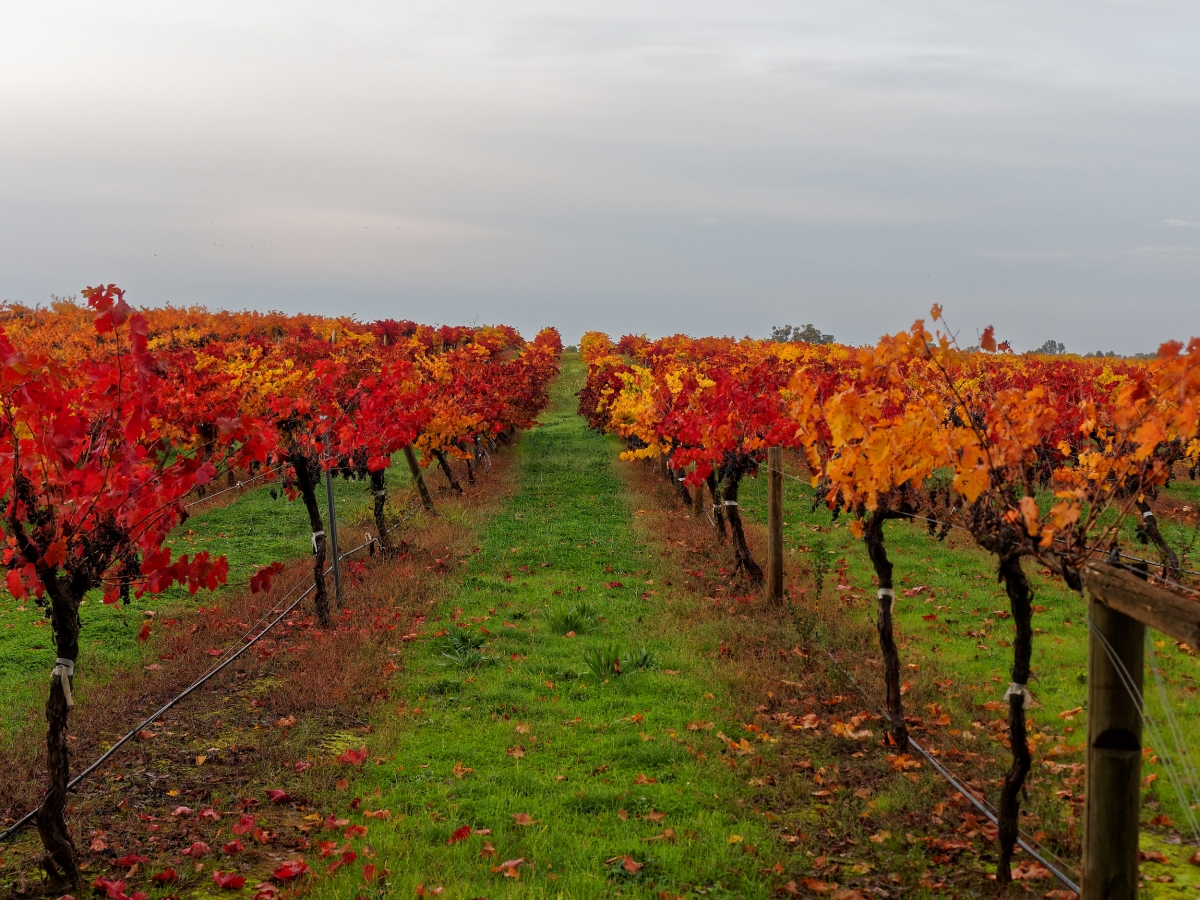 The United States 
California used to make large quantities of sweet and fortified wine, but fashions changed and now it concentrates more on dry table wines. However many superb dessert wines are made from a large number of late harvested grape varieties: Riesling, Muscat, Gewürztraminer, Sémillon etc.
South Africa
Many types of great dessert wine are produced here, from straw wines to late harvest to botrytis. Grapes used are Muscat, Riesling, Chenin Blanc and Gewürztraminer. One of the wine legends has been produced at the Cape since 1685: Constantia, now known as Klein Constantia Vin de Constance, an outstanding batch harvested Muscat.
By Vinoble Jerez
Artículos y notícias sobre el salón internacional de los vinos nobles, Vinoble 2022.