Andalusia has always been popular for its numerous and vibrant bars. Thousands of them populate the streets of this iconic region of Southern Spain, famous for its joyous atmosphere, wonderful gastronomy and gentle weather.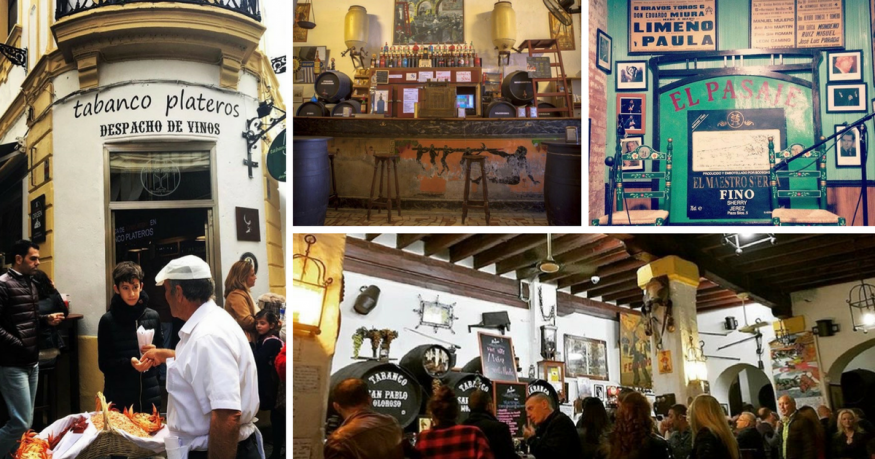 It is very easy to understand what the different types of bars in Andalusia have to offer by just reading their signs: "bar de tapas", "bar-restaurante", "café-bar", "bar-cervecería" or simply "bar" are familiar words to everybody. However, there's a unique type of bar in Jerez that likes to hide in the streets of the old town behind a sign reading the word "Tabanco".
Tabanco is a rather rare term in Spanish and not many people would know what it means unless this question was asked in Jerez, where everybody would show a sympathetic smile before giving the right answer.
The word Tabanco seems to have originated sometime between the 17th and 18th centuries as a result of the fusion of the words "estanco" (small shops where goods controlled by the Spanish state, such as wine, were sold) and "tabaco" (tobacco in Spanish). 
It is not difficult to imagine the rustic charm and interactive and cheerful atmosphere that the first tabancos in Jerez must have had, with customers coming and going, chatting and surely enjoying a glass of Sherry or two (or more) by the counter, before paying and leaving.
Nowadays tabancos are only a slightly more evolved version of these basic shops that we have just described.  This evolution, though small, has been a great one. Today tabancos sell Sherry both by the bulk and by the glass and they have incorporated a small kitchen (where delicious local foods are prepared) as well as a bar and a small seating area, so that customers can enjoy different bites with their favorite sherries!
Some tabancos in Jerez are part of a "tabanco route". This route is an invitation to go tabanco-hopping while discovering the wonderful gastronomy, wines, culture, music and people that Jerez is famous for.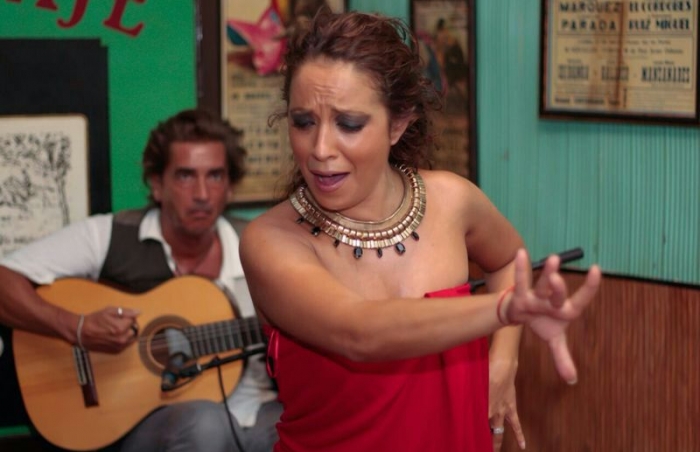 Live Flamenco every day in Tabanco El Pasaje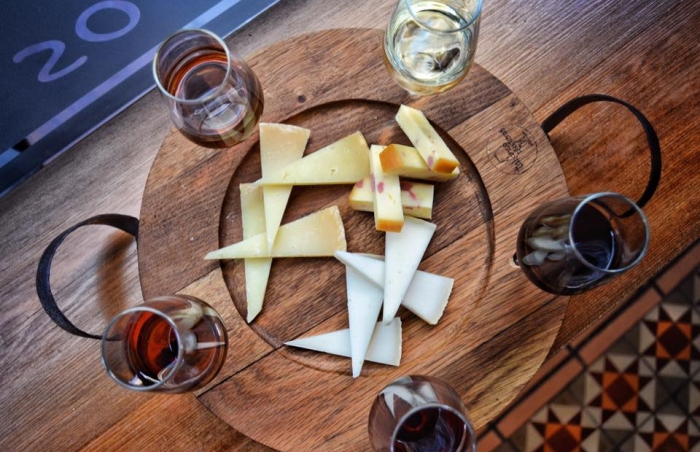 Tabanco Plateros 'Sherry Flights' with local cheeses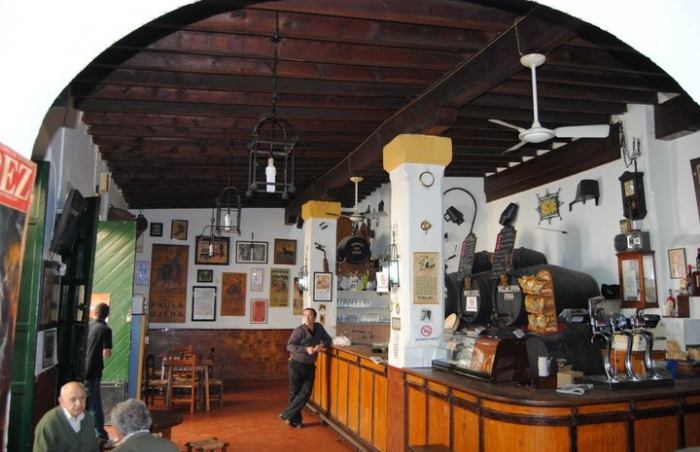 Tabanco San Pablo - founded in 1924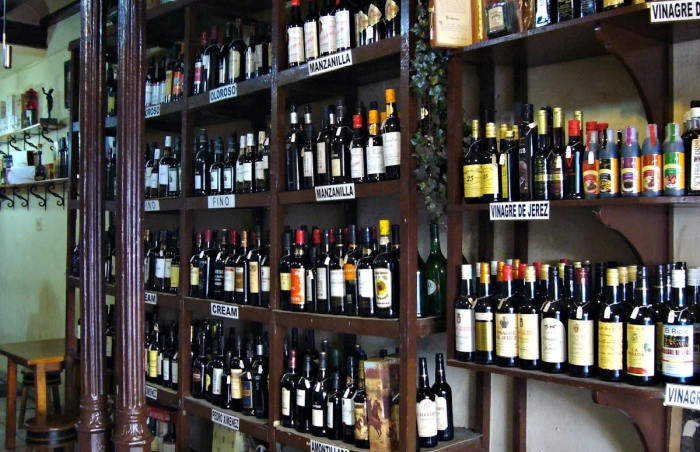 Tabanco La Bodeguita - has a wonderful selection of sherrys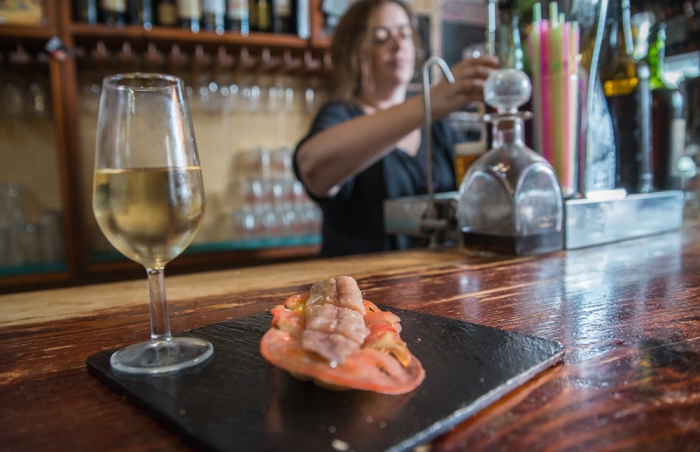 Tabanco El Guitarrón de San Pedro - where you will find homemade tapas, flamenco and cultural events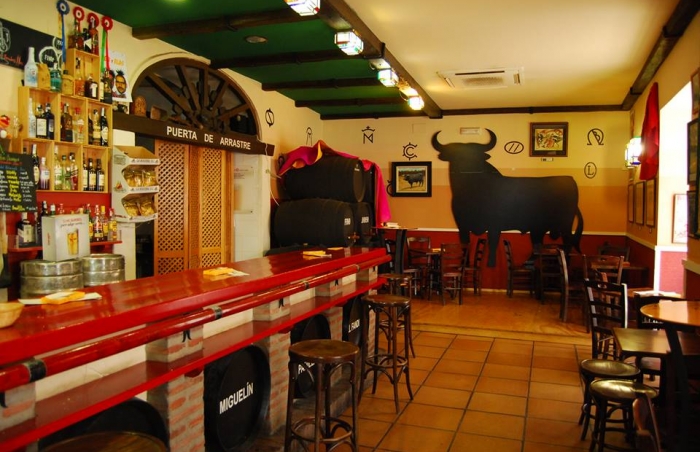 Tabanco La Banderillas - try all the wines and tapas as you can. Foto Credit disfrutajerez.com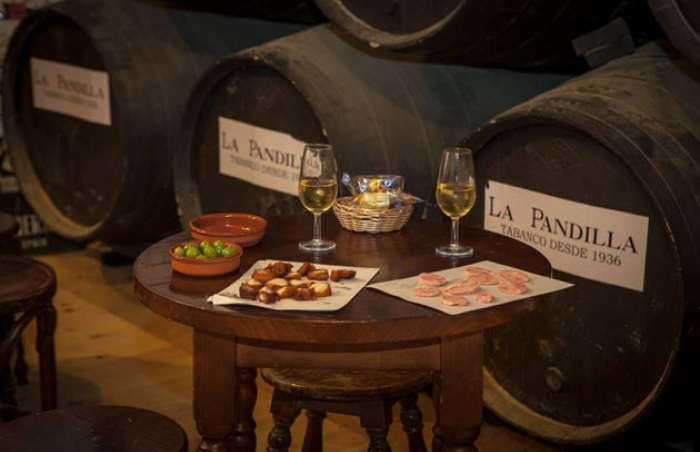 Tabanco la Pandilla - a bohemian atmosphere and very good music
The tabancos that are part of this route are the following:
(c/ Santa María, 8): this place is filled with that rustic charm we have previously described and it has amazing sherries from Bodegas el Maestro Sierra. It has been open since 1925 and it has regular flamenco performances. Their platters of assorted smoke fish are delicious!
 (c/ San Pablo, 12): located in a lively pedestrian street of the quarter of San Miguel, this tabanco opened in 1924. Their most famous speciality is probably "Ajo Caliente". This is a delicious dish cooked with tomatoes, peppers, garlic, olive oil and bread that was a common meal for the vineyard workers. Have a glass of fino and a tapa of Ajo Caliente here before hopping off to the next tabanco.
Tabanco la Bodeguita
(c/ Arcos, 5): the crowd in this tabanco could write several books with stories of Jerez. So try to be told at least one of them while enjoying a sherry in their company. This tabanco has also a wonderful selection of sherries both by the bulk and by the bottle.
(c/ Algarve 35): a lively hangout for locals of all ages, this tabanco has a slightly more modern touch. Their chicharrones are delicious with a glass of oloroso sherry.
(c/ Bizcocheros, 16): located in the lesser known quarter of San Pedro, this tabanco also hosts flamenco shows as well as other cultural activities.
(c/Caballeros, 12): kind staff, amazing food, fabulous sherries and friendly locals in this tabanco filled with soul and bullfighting memorabilia. Try as many tapas and as many sherries as you can. You'll want to live in Jerez after visiting this place.
(c/Valientes, 14): located in a spacious and beautiful old bodega building, this tabanco has a bohemian halo and great music. They serve sherries from bodegas Sánchez Romate as well as excellent montaditos.
The tabancos in Jerez are charming and welcoming spaces that will help you immerse yourself into the local culture while enjoying the many food and wine treats that the city has to offer. If you wish to experience them with a local host in order to turn your visit to Jerez into an informative and fun food and sherry adventure, contact  Genuine Andalusia. Their passion and enthusiasm for all things Jerez are infectious and you will surely be turned into a sherry convert!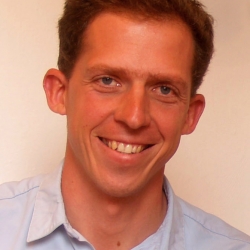 By Ivan Ricoy
Iván is a Certified Sherry Educator and the founder of Genuine Andalusia: a specialized tour company based in Jerez, committed to connecting travelers with the local essence of South West Andalusia, through authentic local experiences. The three main pillars of his tours are food and wine, culture and heritage and outdoors and nature and the three concepts describing his services best are comfort, beauty and authenticity. He has been in love with the Sherry Triangle since he moved there from Madrid when he was 7 years old.