Creator of some of the most highly esteemed and famous wines in Spain, Peter Sisseck hopes to replicate the success of Pingus in Jerez, where he has bought a bodega and vineyard with the intention of making a "great white wine". In the following interview Sisseck, who has confirmed his presence at Vinoble this year, gives us some advance details of his new project.
It is now almost three months since Peter Sisseck announced that he had bought a bodega and vineyard in Jerez, yet the telephone of this Dane, who has lived in the Ribera del Duero since the 1990s, still keeps ringing with the congratulations of friends, acquaintances and journalists who want to know more about his new project in Jerez.
Expectations are high. Many see him as a sort of Nordic Mr Marshall* whose arrival will contribute notably to boosting the image of quality and prestige of Jerez: if he managed to capture the attention of the all-powerful Robert Parker Jr with his first vintage of Pingus (1995), once the most expensive wine in Spain, then perhaps he could help the area to achieve the recognition it really deserves in the panorama of the great wines of the world.
Aside from what the future might bring, Sisseck insists that far from wanting to give anybody lectures, he comes with the firm intention of learning from the people who really know the area and to work on a long-term project to create a quality wine. In fact his business partner is Carlos del Río González-Gordon, a member of the family which owns González Byass and co-proprietor of Hacienda Monasterio, the Ribera del Duero bodega where Sisseck is the oenologist.
Will you be at Vinoble this year?
I don't think it would be worthwhile having a stand with nothing to show, but of course we will be there, supporting Vinoble and explaining the bodega and the project.
Why did you buy the bodega and vineyard now?
I had been trying to buy something in Jerez for the last ten years, so it is hasn't been anything sudden. The deal was signed last year around harvest time. I found a bodega with a very interesting solera in Jerez, owned by the Sanlúcar bodeguero Juan Piñero, and which had previously belonged to the almacenista Ángel Zamorano. At about the same time I came across eight hectares of vineyard in the pago Balbaína and decided this was the perfect moment to buy it.
Is there some reason why you established yourself in Jerez and not in Sanlúcar or somewhere else in the area?
The solera was in Jerez and there seemed little sense in moving it. I understand that there are differences in the ageing in Sanlúcar and Jerez, but for the kind of wine I am looking for I believe Jerez is a suitable place. Wine ages very well in the bodega we have which is located in the interior which is warmer and less humid than Sanlúcar. The vineyard is in Balbaína, among the classic pagos of Macharnudo, Carrascal and Miraflores, so I think it is in a good mid-point. Speaking with many who understand the history of Jerez, Balbaína has always been a pago which offered freshness and is considered ideal for the production of Fino, which is the wine I want to make. Macharnudo is more Amontillado and Carrascal is more Oloroso. Fino for me is the classic wine of Jerez, and the great white wine of Spain, and that is what I will concentrate on.
Are you contemplating making any other kind of wine in the future?
I only want to make Fino. I have no plans to make Amontillado, Oloroso or white table wines. Why would we change things when we already have such a well-known and important wine? It would be absurd. We can try to improve it but I don't believe we should distract attention from the Fino, which is unique.  White Burgundy works well in Burgundy; nobody there is thinking of changing to anything else.
Can you give us any more detail about the Fino? Will it be a small production high priced wine?
Production is determined by the number of butts in the solera, which is 120. Juan Piñero's oenologist, Ramiro Ibáñez, selected 65 of them for the Fino Camborio. So now there are two soleras, though when the bodega belonged to Ángel Zamorano there was just one. I have to get to know everything that is there in depth to see if we can continue with both soleras or if we should put them together again. I have no idea yet what the price will be.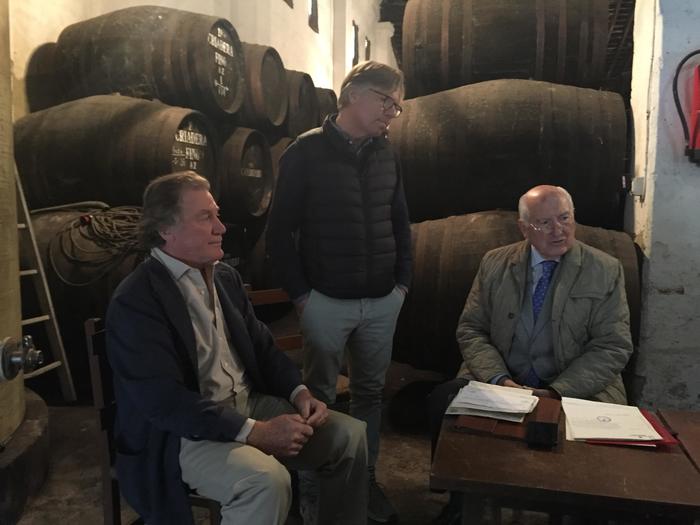 Do you know when the wine will be for sale?
Many people have asked me when I will put the wine on the market, but we are certainly not in any hurry because it is a long term project. I have much to learn in Jerez because although I know the wines and the history I have never made wine there. For me it is the work of years, not months. We might possibly release some in summer, and it will be a selection of butts. My idea is to make a single vineyard Fino, but it will take three or four years until the vineyard begins to have an influence on the solera. That is important. I am not trying to go there and change everything; I have huge respect for all the great work that has been done there, both by Ángel Zamorano and by Ramiro Ibáñez and Juan Piñero. I am not one to come here and change all that work; it would be a mistake and a lack of respect for those who were there before.
Until now, the butts have been refreshed with wines from the Callejuela vineyard in Sanlúcar.
According to what Ramiro has told me, the Blanco brothers have vineyards in the pago Callejuela and also in Macharnudo Bajo and Añina, another interesting pago for Fino. For the last four years the solera has been refreshed with a blend from these vineyards. Curiously, Balbaína is in the middle of them. It is a vineyard which I have always liked. We are in the highest part, at 92 metres.
Are you going to make changes to the cultivation of the vineyard you have bought in Balbaína?
Our team is going to work the vineyard organically as I have always done, but adapting ourselves to the area. This is the philosophy I follow at Château Rocheyron in Bordeaux, where we have been working this way for fifteen years now. The humidity and mildew which can be a problem in Jerez are problems we now have under control in Bordeaux. I believe I am coming quite well prepared, but that doesn't mean there won't be problems. For that reason we are talking with experienced people who know the area much better than I do.
Will you be working biodynamically as you already do in other areas?
Yes, it is the logical thing to do. In order to close the biodynamic circle completely we will need a cattle ranch. Composting, for example, is very important for biodynamics, but it is something we will do later on. There are good ranches in the area - I even have friends who have ranches - and I have discussed the matter with them, so I am sure we can reach an agreement to do things properly.
What do you believe you can bring to Sherry?
I don't pretend to be able to bring much more than other outstanding winemakers who already work in the area. What I will certainly do here is what I do in all the other areas I work in, and that is to take great care of the minutest detail. Making great wine involves many little details which come together to form a bottle of wine: the vineyard, winemaking, bottling. There are lots of facets which are perhaps not very important individually, but when they are done well and brought together they give a great result. And I don't pretend to revolutionise anything, I just want to make a good wine. In recent years Sherry has been dominated by complex technology, but perhaps on occasion it has had too much influence. En rama wines are in fashion at the moment and here technology doesn't dominate 100%, but Fino is a wine with lots of life in it, and bottling it en rama can bring complications.
Will you bottle your Fino en rama?
Yes, but there are 250,000 different ways to make en rama wine; there is no single method, nor is it defined by the Consejo Regulador. As the saying goes, all roads lead to Rome. I have to look at which method is best suited to what we want to do.
How do you perceive Spanish wine at the moment, and in particular Sherry?
In general the biggest unresolved problem is still the vineyard. There are still too many people who don't care properly for their vineyards. We are very lucky that the quality of grapes in Spain is generally quite good without too much work, and this allows many bodegas who take minimum care to make a living. As far as Jerez is concerned, it is a great pity that wines which are so historically important and unique in the world came to be sold at such low prices. We would do well to remember what was achieved in Champagne 20 or 30 years ago when Selosse and other small producers started with their own vineyards.  There, Champagne has come to be considered as a wine which has demonstrated that large producers and small growers can coexist. Much can be learned from what has been done in Champagne because it is a cousin of ours and because there they also have technology and chalky soil. They took into account that technology does not have to affect the vineyard too much, and that the origin must always be more important than the process.
*Mr Marshall
George C Marshall, US Secretary of State after WW2, devised the Marshall Plan by which the US gave economic assistance to war ravaged Europe. Spain had been ravaged by civil war but was not included in the plan being neutral during WW2. A famous comedy film, "Bienvenido, Mister Marshall" satirising contemporary society, was made in Spain in 1953, in which villagers go overboard in preparing a real cultural atmosphere for visiting Americans in the hope of Marshall plan benefits.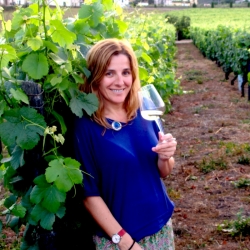 By Yolanda Ortiz de Arri
Yolanda Ortiz de Arri es periodista y traductora especializada en vino. Formadora homologada en vinos de Jerez, ha superado el nivel Advanced del Wine & Spirits Education Trust (WSET) y fue finalista en los premios Louis Roederer 2016 en la categoría de mejor comunicadora online. Colabora regularmente en Spanish Wine Lover y 7 Caníbales