Those attending Vinoble 2018 will be able to book tickets for a maximum of two tastings per day from the official programme from next Monday. For the payment of a symbolic price, a maximum of two tickets per day can be reserved via the event's official website www.vinoble.org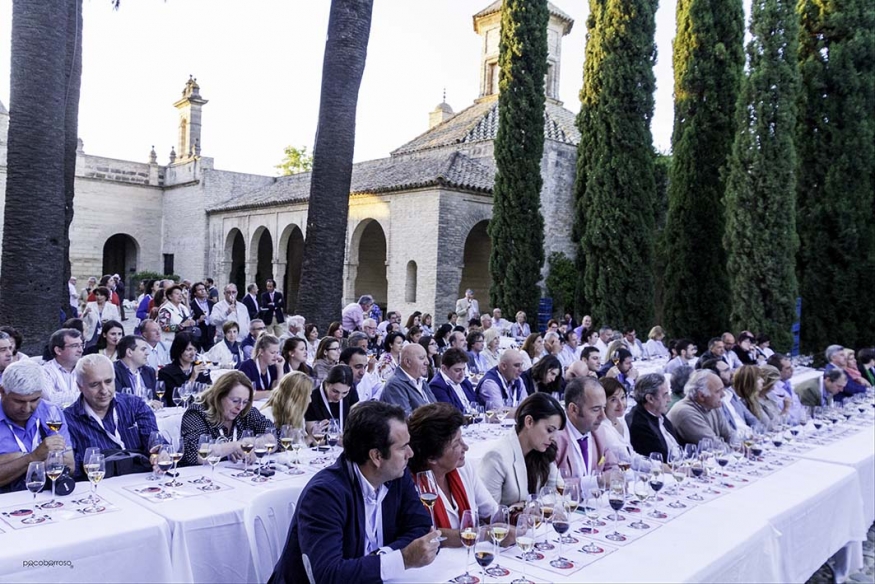 For the first time, the official Vinoble website www.vinoble.org will be open from Monday 23 April for the reservation of seats for the 18 tastings programmed for the celebration of the International Salon of Noble, Fortified and Special Sweet Wines which will take place at the Alcázar in Jerez from the 3rd – 5th June.
The symbolic ticket price will vary according to the size of the space in which the tastings will take place: 14 euros for tastings taking place in the Molino de Aceite, and 18 euros for those taking place in the Mezquita.
Vinoble is looking for a more international focus in this edition, not only with the presence of exhibitors from different countries like the United States, Hungary, France Italy and Portugal, but also a diversity of the world's production zones which make up the tasting programme.
Vinoble 2018 Official Tasting Programme
Sunday 3rd June
11.00 Vinoble 2018 inaugural Tasting (La Mezquita)
A tasting of a selection of Grands Crus Classés from Sauternes led by Françoise Passage, Spanish importer of FAP Grand Cru.
12.00 The rebirth of Italian Sweet Wines (Molino de Aceite)
Juancho Asenjo, one of the most influential educators in the Spanish viti-vinicultural panorama will be getting to the bottom of the complexities of the sweet wines of Italy with examples from various different regions.
13.00 New Winemaking Processes in Montilla-Moriles (Mezquita)
The well-known oenologist from Córdoba, Miguel Cruz will explain the new vinification techniques which are being used in this important Denominación de Origen.
18.00 The Treasures of San Ginés (Mezquita)
Beltrán Domecq and César Saldaña will present some of the vintage Sherries made from the foot trodden musts produced at the Fiesta de la Vendimia or harvest festival in Jerez each year and looked after at the Consejo Regulador's own bodega San Ginés.
19.00 Alicante: A Jewel Shining with Light and History (Molino de Aceite)
The Fondillón wines of the DO Alicante will be presented by Pedro Ballesteros Master of Wine, nominated "Personality of the Year 2018" in the wine sector at the XI edition of the Wine Up Guide awards.
20.00 The Pedro Ximénez of Jerez (Mezquita)
José Antonio Zarzana, director and proprietor of Bodegas Ximénez Spínola will present his varietal wines with varying levels of evolution in bottle.
Monday 4th June
10.30 Liquid Relics (Mezquita)
Antonio Flores, oenologist and master blender at González Byass will present a selection of exceptional wines from the Reserve Soleras at this historic Jerez bodega.
11.00 Blessed Oxidation (Molino de Aceite)
This comparative tasting of Sherries, Champagnes and Cavas with oxidative ageing will be led by the famous Catalan bodega Gramona.
12.30 Sherry and Rock (Mezquita)
A unique experience combining the best rock music with the "Rare Sherries" range from Bodegas Osborne. Iván Yanza will demonstrate how to marry music with wine.
18.00 History of a Solera (Mezquita)
Montilla-Moriles wines from the soleras of Bodegas Alvear and Pérez Barquero feature in a tasting led by the oenologists from both bodegas: Bernardo Lucena and Juan Márquez.
19.00 Fortified Wines from Portugal (Molino de Aceite)
Villa Oeiras Superior (Carcavelos), White Ports and Madeiras will be presented by Amanda Navarro, sommelier and taster on the Official Tasting Panel of Valencia.
20.00 From Lower Miraflores to Upper Macharnudo (Mezquita)
Eduardo Ojeda and Jesús Barquín, founders of Equipo Navazos, will examine the Sherry, Manzanilla and other wines which come from these historic vineyards in the Sherry area.
Tuesday 5th June
10.30 A Walk Through the Albarizas and Vineyards of the Sherry Area (Mezquita)
An examination of the vineyards and soils by Ramiro Ibáñez and Willy Pérez, young winemakers and drivers of a silent revolution in the Sherry area which seeks to recuperate the winemaking of the past using the knowledge and experience of the present.
11.00 Liquid Harmonies (Molino de Aceite)
The Alicante sweet wines of Felipe Gutiérrez de la Vega presented by their proprietor, creator of the legendary Casta Diva.
12.00 The Miracle of Ice Wine (Mezquita)
Naiara López Tejedor, commercial director of Vinos Perea will explain the majesty of ice wines and ciders from various production areas around the world.
18.00 The Flagship Atlantic Wines of Portugal (Mezquita)
Port, Madeira and Setúbal will be presented by Cristina Tierno, director of Efecto Directo, and Ricardo Paulo, manager of LUSITNO, a shop selling the wines and gourmet products of Portugal.
19.00 Sweet Bordeaux (Molino de Aceite)
A talk and tasting of wines from various producers who are members of the Union des Grands Vins Liquoreux de Bordeaux.
20.00 Closing Tasting of Vinoble 2018 (Mezquita)
Luís Flor, Director General of Vinoble, will present a selection of Fortified and sweet wines from the various production areas present at Vinoble 2018, and various oenologists will also participate.
The organisers of Vinoble 2018 recommend reserving tasting places as soon as possible since strong demand is anticipated and they can run out quickly.
For further information or the answer to any query related to the online sale of tickets, please email catas@vinoble.org.  Tickets will be available to purchase from our website here, to all tastings in the programme from Monday, April 23rd. 
By Vinoble Jerez
Artículos y notícias sobre el salón internacional de los vinos nobles, Vinoble 2022.