Master of Wine Sarah Jane Evans reveals why Vinoble is the most culturally rich and fun wine fair to visit in 2018.

The blossom on the jacaranda trees is a luminous purple, the sky a clear cloudless blue, the sand on the ground bright ochre.  And the aromas of Sherry waft intoxicatingly in the gentle breeze. The Who's Who of the bodegas of Jerez are all about, smartly tailored.  It can only be Vinoble! Spain's biennial fortified and sweet wine fair is a riot to the senses.  What's more, it takes place in the Álcazar, a former Moorish fortress built before la Reconquista, when Jerez was reconquered by the Christians.
There's no wine fair to beat it. For any lover of the fortified and sweet wines of the world, this is the place to be. It's a rarity too, in that it's in the middle of a wine region.  You can go to the fair in the morning and have lunch in a bodega a couple of minutes' walk away, or in a vineyard in 15 minutes' drive.  It may be smaller than Prowein, or Vinexpo and without the air conditioning but, golly, it's so much more fun.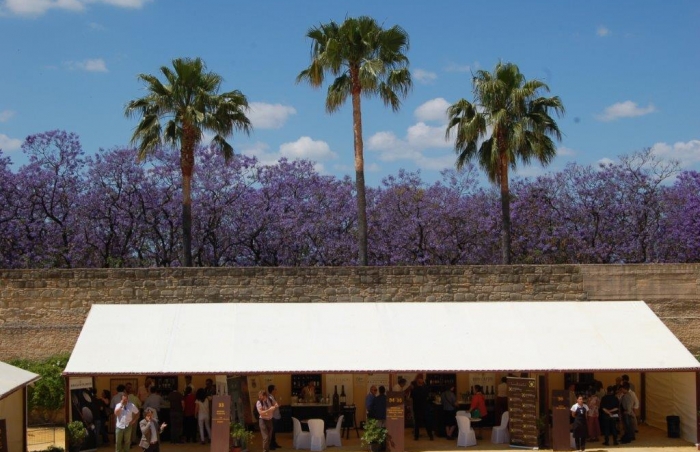 The blossom on the jacaranda trees is a luminous purple, the sky a clear cloudless blue, the sand on the ground bright ochre.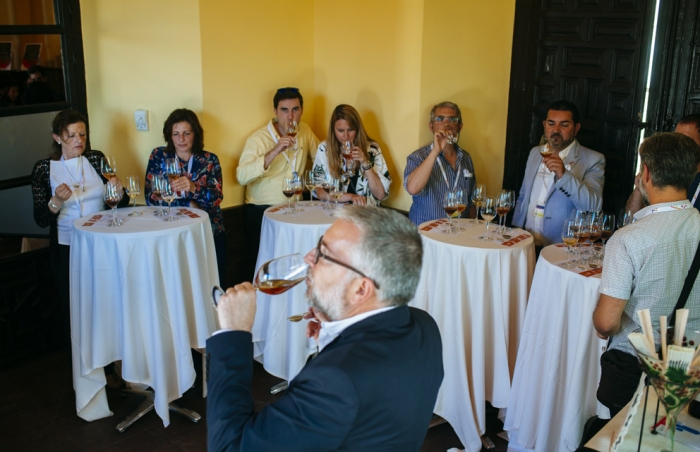 Pepe Ferrer prepares a revealing tasting of flavoured gels with Sherries.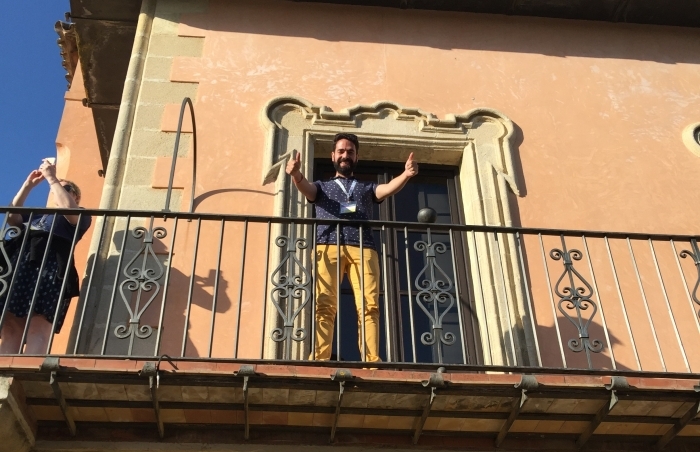 Bruno Murciano, co-founder of de Vinos in the UK and the Best Sommelier of Spain 2008, takes time out from tasting to enjoy the balcony view.
2016 was the ninth incarnation of Vinoble. The name is a play on the word for wine and the word which means both 'noble' but also 'noble rot', referring to botrytis that creates some of the world greatest sweet wines. Vinoble was a terrific idea, launching in the home of Sherry and bringing together producers from Madeira and Moscatel to Sauternes and Samos and taking in Canadian ice wine and Port on the way.  
The first floor of the Moorish palace was, as ever, dedicated to Sherry. One corner Fino, another Palo Cortado, and so on.  There's no better way to taste through all the Sherries of a particular category. Except, of course, for the fact that the rooms are like the busiest of tapas bars. Tip: get there early in the morning.
At one end of the room Pepe Ferrer was doing a revealing tasting of flavoured gels with Sherries.  Verdict: make a chilled Cream Sherry your choice with curry. Nothing better with Indian spicing. You read it here.
Off the main rooms producers have their own stands. There's Javier Ochoa, trying to be retired and on holiday, but still at work on the family stand pouring his daughter's super-delicious sparkling Navarran version of an Italian Moscato d'Asti called  MdO.
Out of the window I could see Jan Pettersen, who runs multi-award winning Sherry House Fernando de Castilla.  He was busy offering samples and showing labels of his new Vermouth, deliciously dry and spiced, coming on the market soon. It is made from old Pedro Ximénez (PX) and Oloroso with 27 botanicals.  Downstairs the stand of Montilla-Moriles producer Toro Albalá was thronged.  Anyone who gets 100 points from Luis Gutiérrez in the Wine Advocate (for their PX Convento Selección 1946, and in this case deservedly so) is bound to be an attraction.
Across the square, Pedro Ballesteros MW and Cesar Saldaña, the director general of the Sherry DO, were leading an exceptional tasting.  On show were a range of experimental wines from Jerez' leading winemakers, plus new wave wines from the next generation. There's plenty to debate: 'static ageing', that's to say wines that mature like table wines in a barrel, and don't go through the traditional solera system; wines that aren't fortified; single vineyards and the search for terroir.  Sherry is not that old-fashioned drink frozen in time – it's a wine that is changing, as it always has. What's exciting in 2016 is the emphasis on quality not quantity.
So Vinoble 2016 was an ideal way to learn about and savour Sherry. There was also time to visit bodegas in town, drop in on a flamenco party, and eat tapas to  your heart's content.  Put 2018 in your diary now.
By Sarah Jane Evans MW
Sarah Jane Evans MW is an award-winning wine writer, with a special interest in Sherry. For her Master of Wine exams she wrote her dissertation on the Almacenista producers of Jerez. She is a Certified Sherry Educator, a Dama de Solear (the Manzanilla from Barbadillo), a Dama de Albariño and a member of the Gran Orden de Caballeros de Vino, for services to wine in Spain. She writes regularly for Decanter on Spain's wines, and is co-Chair of the Decanter World Wine Awards. During her previous career at BBC Good Food magazine she was Chairman and then President of the Guild of Food Writers, and was Chairman of the Institute of Masters of Wine 2014-2016. She's currently Chairman of the organising committee for the IMW's forthcoming Symposium in Logroño June 14-17, 2018. Sarah Jane has a particular interest in taste and flavour. She is a founding member of the Academy of Chocolate, and particularly enjoys introducing people to Sherry by exploring flavour matches with chocolate and other foods.